Songwriter Profile of the Month
This month our spotlight is on Gary (Doc) Dockery, January's songwriter of the month. Doc, as he's known, h n a member of the LASC for four years and regularly attends meetings. He is a prolific songwriter and a wonderful guitarist. His music is "Hot Country," but he is just as adept at rock, pop and the blues.
Doc began playing the guitar when he was 11 years old. It comes naturally as his father played at Renfro Valley. He is the youngest of seven children and the only one who took up music.
Doc was really influenced when he saw the Beatles on the Ed Sullivan Show. From that moment on, Doc knew exactly what he wanted to do. At 13 he formed his own band and played tunes by the Beatles and the Rolling Stones and started writing his own material.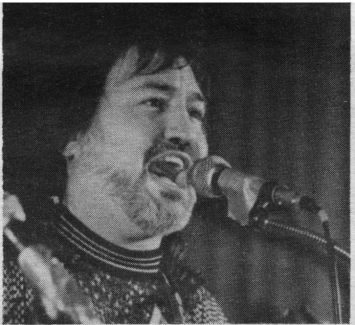 Doc Dockery. Photo by Jean Metcalfe
He served a hitch in the Army and began playing country music while stationed in Germany. When he returned home to New Albany, Indiana, he formed the locally popular Doc and Smitty Duo. Those two stayed together for 12 years.
Doc stays busy. He and his wife Mary, who is one of the Pirtle Sisters and a gifted singer herself, perform a duet act every now and then. When he's not performing with Mary, Doc is sitting in with J. D. Black or playing with the Frankie Nunn Band.
Doc is working on a project with Vince Emmitt, formerly of Shaking Family and Wayne Young of the Shufflin' Grand Dads and hopes to start another project with Mickey Clark, who wrote "She's Gone to LA Again," a tune recorded by the Oak Ridge Boys.
When he's not writing or performing, Doc is recording on his new Alesis ADAT 8 Track Digital System in his own studio. Doc puts down a quality sound at what could be called "songwriters rates!" Doc's Studio is a "full service studio." Lots of folks go to Doc with lyrics and no music. He'll compose, play the music and even sing the tune if you like.
The LASC is proud to have Doc as a member.