An Evening With Tangerine Dream
By Peter Strojny
Somewhere in the mid-Seventies, years before the coining of the term "New Age" music, I was browsing in a local record store and was caught by dreamy and delicate sounds filling the air. Following the sounds down the aisle, I found the source of all the leasing melodies. When I asked what it was, the long-haired clerk replied, "It's Tangerine Dream." Right then I knew I wanted to hear more and more of this new music – eventually becoming hooked for life.
'The band was conceived as an experimental rock group in West Germany by Edgar Froese. By 1969 their first release, Electronic Meditation, had appeared. Over the next few years they evolved into the premier synthesizer band and in 1974 came an internationally released album called Pheadra.
T.D.'s 25-year odyssey in sound has produced over 50 albums, including music for such films as "Thief," "Sorcerer," "Risky Business," "Firestarter," and "Legend," just to name a few. The sounds of their music can be heard on "Doogie Howser, M.D." and wven on some soap operas.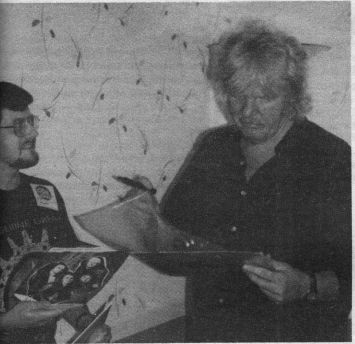 Edgar Froese autographs a fan's record album. Photo by Pete Strojny
In 1980, T.D. became the first western rock band ever to play live in East Germany, with T.D. being just across the wall in West lerlin.
Many Tangerine Dream alumni have gone on to notable solo careers, including Klaus Schulze, Chris Franke and Peter Baumann. The band's prime mover, Edger Froese, has also produced several solo works. Over the years, T.D. has toured without much publicly and by the time word got to Louisville, it was generally after the fact — until recently.
In October the group barnstormed the country on a one-month, 27-venue tour in cupport of their latest release on the Miramar label, Rockoon, which contains some of the best recent inspirations by T.D. A friend and I made the trek to Cleveland to catch the how with their current lineup: founder Edgar Froese and his son Jerome, who both play synthesizer and guitar; Zlatko Perica on guitar; and Linda Spa on saxophone and synthesizer. There were, of course, no vocals; the music speaks for itself.
The place – Front Row Theatre in the Cleveland suburb of Highland Heights – lives up to its name. The venue is a sloped theatre-in-the-round with a capacity of about 1,500, featuring a revolving stage at the center. Regardless of where the patrons are sitting the view is close and unobstructed.
There was no warm-up band. Tangerine Dream opened the two-hour show in darkness, with waves of sound slowly lapping over the audience. Colorful laser lights revealed the band bathed in fog. As the lights grew stronger, the visual hues and patterns complemented their aural counterparts without distracting the focus from the music. After a short intro, T.D. moved right into "Touchwood" from Rockoon, then drifted into "Melrose," a '9l release. Much of the material was from more recent albums.
The audience erupted with cheers and applause after each number, then hushed quickly as a new selection began, grateful for a chance to hear the legendary Froese and company live. The show featured some spectacular displays of sight and sounds.
Edgar and Jerome spent most of their time behind twin pyramids of Kurzweil and Proteus keyboards, occasionally glancing at each other and their computer monitors. (It's an impressive collection of keyboards and computer gear.) The emphasis was on their more energetic music, blending the electronic sounds with such traditional instruments as Linda Spa's saxophone. Her model-like presence and soulful playing of the saxophone and keyboards blend very nicely with the rest of the band. Zlatko Perica's Steinberger guitar playing added the guitar edge which was shared with Jerome's guitar toward the end of the first set, when Jerome closed the set with a blistering solo.
Edgar's fluid axe work was reserved for the end of the show when he delighted the audience by unleashing a guitar fury on his Fender. The fervor of the crowd brought the band back for two encores, finishing up with the unusually different and yet familiar Hendrix jewel "Purple Haze."
My friend and I agreed it was one of the best shows ever.
After the show, a handful of fans gathered in a backstage lounge to visit with the band and get autographs. The tour turned out to be even more of a family affair than we'd realized, as a woman standing behind the bar turned out to be Monika Froese, Edgar's wife and Jerome's mother. She is a photographer and responsible for much of the album art and promotional photos for the band. I had to comment on the many excellent pictures she has taken over the years, one in particular depicting a red silk scarf floating in the midst of a forest. Monika replied, "Oh, the insert of Tangram ('80 release), that's one of my favorite shots." I concurred that it indeed was one of my favorites, too.
Linda Spa and Jerome Froese signed autographs as did Zlatko Perica, a Swiss resident of Croatian origin. Edgar Froese stood by the wall as fans crowded around him. ln spite of a full schedule, he took a few minutes to answer some questions. (Their bus was leaving immediately for a show in Chicago the next day.) I found Froese to be easygoing and gracious with everyone. Asked if the revolutionary advances in electronics since the late 1960s have influenced his music, he strongly denied it. The synthesizer is the same as any other instrument, according to Froese; new techniques may produce an improved violin but it is still a violin. It has no impact on the sounds he wants to achieve.
He said the 1992 North American Tour began in Toronto and would run across the northern U.S. to Seattle then to cities along the California coast. When asked about coming to Louisville, sadly, he thought they would be unable to play locations nearer Louisville in the foreseeable future. "Well," I said, "if the tour won't bring you to Louisville, here's something from Louisville to take with you," and presented him with a bottle of locally produced, fine Old Weller whiskey. He smiled broadly, appreciated the gesture, which sparked interest in Jerome who came over to inspect the gift.
Asked about composing on the road, he noted that although he had brought along a couple of units for that purpose, there had not been much time.
My comment that Tangerine Dream historically has not had very strong support from their U.S. distributors brought agreement from Froese. He feels that in the past some record companies in the U.S. believed they knew better than he how to make Tangerine Dream music. Unless you are willing to prostitute yourself, he said, it is hard to get along in the business. Edgar indicated that there will be an upcoming video release — a full-length concert of the '92 tour. The latest news, according to Miramar spokesman John Irwin, is that the video has already been shot in Seattle.
We complimented on a great show and after a couple of photos with Edgar and the band, it was time for them to move on to the next tour stop. Such is the life on the road.
Tangerine Dream's current U.S. distributor, Miramar Recordings, who recently became part of Bertelsmann Music Group (BMG), is supporting the band not only in audio, but in video as well. As noted earlier, a concert recording of the 1992 North American Tour is forthcoming and the band is featured along with other artists on the True North video which blends New Age instruments with spectacular footage of the unspoiled natural beauty of our northern frontier, Alaska. Slow motion and time lapse are effectively used and there is even some fine footage of the northern Lights.
True North is available on laserdisc and V.H.S. hi-fi and a soundtrack is on CD. It makes a nice addition to anyone's collection of nature shows or for someone just interested in collecting unusual videos. The footage is breathtaking. I highly recommend it.
For more information about recordings by Tangerine Dream, check your local music outlet or write to Miramar Recordings, 200 Second Ave., Seattle, WA 98119, or call 1-800-245-6472.