Bluegrass Beat
It's been some busy times since the last words went to paper. There was the final Friday night bluegrass show at Shepherdsville until fall. And festival season is here and in full swing.
We went to Red Mile at Lexington in May and enjoyed a good day of bluegrass. Had a chance to see some great talent and visit with friends among the bands. I had the longest chat with Sonny Osborne (Osborne Brothers) I have ever had with him. Seems we share a lot of views about some of the directions of bluegrass, etc. Sonny and Bob's cousin Dean Osborne is one of the folks behind that show. Dean has a good band himself.
Gary Brewer was there, and they did a good show. I know that politically/musically correct these days it is a "set" or "gig" rather than a show; however, to me it was a good show. Gary has incorporated into his show an old-time segment with his dad, Jim. It is a very good bit and seems popular with the listeners.
From there we move on to the first Memorial Day Weekend Bluegrass Festival at Otter Creek Park. Been working with and looking forward to this one for several months. All of the wet weather finally let up and, just in time, the crew was able to get the stage up and ready. Having seen the before and after of the festival/stage area, let me say right now that, knowing the crunch that they were in, the entire crew at Otter Creek Park — everyone who had anything to do with the preparation of the festival grounds — did a tremendously remarkable job and should be commended. A tip of the bluegrass-boy hat to you. True, there were some areas that needed a little work but that will be in place for next year. Concerning the fantastic 40' x 50' stage, one comment summed it up rather well: "We have been around to a lot of festivals and this was the best and nicest stage we have seen. All bluegrass festivals should have one like it."
Another extremely make-or-break element of any festival is the sound system — not only the system, but the way it is operated. Homefront, you not only showed them how it should be done, but that it can be done and does not have to be done at a level that blows them out of the area. I have not heard better sound at a festival anywhere. I guess this calls for another tip of the bluegrass-boy hat to the sound operators. I understand the equipment came from the Doo Wop folks in Louisville.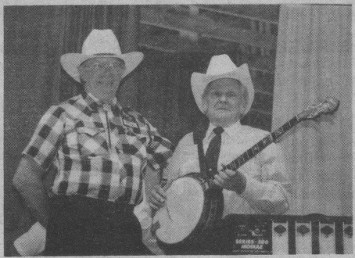 Berk Bryant, left, and Dr. Ralph Stanley at Otter Creek Park. Photo by Jean Metcalfe
So much for the logistics and technical things. How about the show?
Okay, Saturday was the Pizza Hut Showdown day. The Hut folks on hand were Milton Harkey, Showdown president, and Dick Pierle, director of development. They met with the judges prior to the event to explain the procedures and to make the point that it was not a contest but rather a talent search. The judges were Danny Jones, well-known local musician; Oscar Sullivan — right, the Oscar of Lonzo &; Suzanne Thomas, Dry Branch Fire Squad; Laurie Cottrell, Kentucky Blue; Karen (I'm afraid I don't know) from IBMA; and me, LMN and WFPL. Pizza Hut provides the criteria for the judging and scoring sheets. I think the criteria and system are very well set up. Judges do not sit together, and score sheets are on an individual-band basis. When a group finishes, its sheet is picked up and a new one given out. The outcome was close, but was clear. The champions, who will appear in the finals at Owensboro in September, were a group known as Strings Attached.
In view of the fact that I don't know the individuals in every group, I will list the group names only: John Cosby and the Bluegrass Drifters, Roan Mountain Hilltoppers, Old Time Gospel Sounds, Blue Night, Kentuckiana Grass, and Strings Attached. All of these groups were good and all received individual group constructive comments which had been provided by the judges. If you thought this was an amateur contest among several local bands, rethink it. The groups were professional and the music and entertainment was good.
Sunday was the time for the show-show. Dry Branch started the day off with a gospel hour at 11:00 a.m. Next up were the Showdown winners, Strings Attached, followed by Kentucky Blue, New Horizon, Josh Williams & the High Gear Band, The Lynn Morris Band, Dry Branch Fire Squad, and the whole event was capped off with Dr. Ralph Stanley & The Clinch Mountain Boys. Although Ralph had been affected with some sort of allergy in his throat at the beginning of his own festival in Virginia two days before, it had no effect on his playing, and the Clinch Mountain Boys carried on admirably. Art Stamper, who has been working quite a few dates with Ralph, was also in the band. Good to see you again, Art.
For the big finale many of the groups joined Ralph on stage.
Mayor Jerry Abramson paid a visit Sunday afternoon, had some very welcome positive comments giving his blessing to this event, and got a little more into the act by introducing Josh Williams.
Otter Creek Park, your first Memorial Day festival, I believe, is certainly destined to be bigger and better and has the potential of becoming one of the festivals to be at, the "kick off" festival for the season, as long as you can continue to have a lineup at least equal to your first one.
"I think he's a neat little dude." My wife's impression of Josh Williams, and one I agree with. A terrific banjo picker and very professional on stage and off. I am glad I got to meet Josh and all of his folks. He made a very good impression on everyone I talked to. They "picked" for about two hours at the campground Saturday night. A fellow joined the group, spoke briefly with Josh's dad, opened his banjo and moved into the group. Turns out he is from Australia, and his name is Ron Williams. He and Josh were seen off to the side "swappin' licks," Very pleasant fellow, Ron Williams, and we hope he has a pleasant stay in the states visiting bluegrass festivals, which is why he is here. He picked Otter Creek Park's first festival for the first one to visit his first time in the states.
I hope somebody was lucky enough to get what would be one of those rare great pictures that the lucky ones seem to shoot. Saturday evening Josh, Michael Cleveland and several other youngsters were "jammin'." On the outer edge of the circle was a little fellow — couldn't have been more than three at the most — with a stick up on his shoulder, held by his left hand, a shorter stick in his right hand, and just fiddlin' up a storm. Keeping pretty good time, too. Since the weather was great all weekend and that 30-40% chance kicked in about 30 minutes after Ralph finished, I guess that little fellow did fiddle up a storm.