PAUL K AND THE WEATHERMEN:
Paul K seems to be under the greatest good fortune spell of his entire career at the moment. For starters, a second feature in Rolling Stone magazine will be out soon. While the band was in NYC in May to play at CBGB's, Paul was interviewed by Ira A. Robbins (of Trouser Press fame), one of the most important people at the magazine. This article is to be longer and more in-depth than the review in David Fricke's "On the Edge" column in '92's year-end issue. It's especially good timing for such national press because Paul K and the Weathermen will be performing at the Lollapalooza festival on Friday, July 9, in Detroit (Paul's hometown). Some 25,000+ people are expected to attend.
This is definitely an intense way to break in the new lineup. Yep, another one. Paul K changes bass players more often than many people change the oil in their cars. Veteran Steve Poulton (ex-Serious George) returns on bass; Steve performed with Paul a year or so back and was the 16th bass player then. Now he's back at No. 19 (+/- l). Assuming drums is Eric Tunison from Milwaukee. Eric used to drum for Die Kreuzen and met Paul circa 1988 when both bands were touring together. On top of all this activity, there's a new release in the racks of local alternative record stores. Blues for Charlie Lucky was released by Silenz Records a few months ago in Europe, and is now beginning to be distributed domestically. This makes Paul's third CD for the Amsterdam-based, German-owned label. Silenz manager Everet Wilbrink, who managed Cat Stevens in earlier years, has established new label offices in both New York and Los Angeles, which will give the label a much stronger presence here in the states.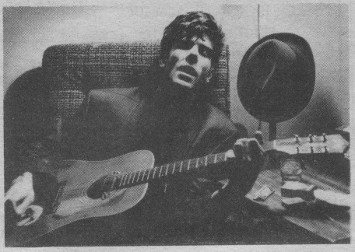 Paul K
Paul completed his third tour of Europe a few months ago, will go back in September with the band to begin the fourth, and in the interim will undertake a brief East Coast U.S. tour. Locally, Paul K and the Weathermen will appear on Sunday, July 18, at Phoenix Hill Tavern with the Blueberrys and one more act TBA, as a phinale of sorts for the 2nd Annual Midsummer Rockphest Weekend. The Rockphest takes place on the 16th and 17th, and is an event designed to showcase up to 24 up-and-coming local/regional acts, twelve of which will perphorm each night. Patrons are encouraged to evaluate the showcased groups on comment cards which will be provided at the door, and the responses will be shared with the band as well as possibly inphluence phuture bookings.
GOSSIP:
Louisville bands are enjoying a much-deserved wave of national music industry attention at the present. An incredible number of artists and bands from our modest-sized city are getting a break. Maybe we're finally on the verge of being more widely recognized as a music "hotbed" like Seattle, Minneapolis, Austin ... .
Love Jones has signed a recording contract with Zoo Entertainment in Los Angeles, thus joining the same label as Matthew Sweet. Maybe they'll get a cool animated video like him too. Love Jones would look oh so cute as little cartoons with tiny cartoon martinis.
NRBQ founder Steve Ferguson (as Brother Stephen and the Midwest Creole Ensemble) is working on his second release for the Michigan-based Schoolkids' Records, and is collaborating with members of NRBQ, including Terry Adams, on the project. Steve's last release, Jack Salmon and Derby Sauce, was also reviewed in the aforementioned David Fricke column (March '93).
Local straight-edgers Endpoint were lavished with quite a bit of attention from Atlantic Records following a date in NYC with Jawbox, and are rumored to have received an offer from the WEA branch (as is Jawbox). Apparently word has been getting around about their consistently huge crowds (1100+) at local shows.
Although relatively new as a band, Rodan has been offered a deal by Touch and Go Records after label reps saw an informal performance at a Derby party in the Highlands. This would make them the fourth Louisville band to become part of the Chicago-based T&G family, joining The Palace Brothers, King Kong, and the now-estranged Slint. Other relatives include the Jesus Lizard, the Laughing Hyenas, Tar, the Didjits and Mule. Rodan will be at Tewligans on July 2 with Crain and Brainiac. The Palace Brothers and King Kong are scheduled to appear at a Drag City Records (part of Touch & Go) showcase at the Lounge Ax in Chicago the last Thursday, Friday, and Saturday of July. Buzz-band Pavement is also on the bill. All the bands are drawing lots to decide the order of appearance, so no one will know who plays when until the night of the show.
Wink O'Bannon (the man with the most convivial hair in the business) has recorded an album for Safehouse/Caroline Records, in addition to his quite busy schedule with Eleventh Dream Day (they're touring Europe at press time). By the way, did you see him in their new video on 120 Minutes? Wink's band doesn't really have a formal name yet, but the album has a release date of July 27. Wink plays most of the music on the recording (guitar and bass), but also features brother Michael O'Bannon, Brett Holsclaw, Bill Barney, Becky from Vale of Tears, et al. The bands on Safehouse are signed by Ken Katkin, who used to work with Homestead and there signed Bodeco, King Kong, and Paul K. At Safehouse, he works with the likes of Southern Culture on the Skids and the Lunachicks. Another Safehouse labelmate, Half-Japanese, will be coming to town on Tuesday, July 6, at Butchertown Pub. Sleepyhead opens and it's a free show.
Island Records was quite impressed with Evergreen when a traveling A&R team caught one of their shows here in town. Incidentally, Evergreen will play only one all-ages show this summer, at Tewligans on Sunday, July 11, sharing the bill with Touch and Go Records' the Didjits.
Hula Hoop postponed their plans of returning to England and recording their second session with famed producer John Peel; Peel's secretary told him he couldn't do two sessions with the same band so close together. The band will most likely tour Europe this fall instead, which is actually better because it allows their two new European releases more time to penetrate the markets.
In the local arena, club booker David Gruneisen is now registered as a (write-in) candidate for the office of alderman in this November's elections. Billy Hardison, his partner in booking Tewligans and Cliffhanger's, has been named campaign manager. Election procedure allows a candidate up to ten alternate (mis)spellings of his/her name to be accepted on the ballot, and Gruneisen has designated "Mack Daddy" as one such alternate spelling.
MUST-SEE SHOWS:
Billy Bacon and the Forbidden Pigs are coming back to town for their second performance at Butchertown Pub on Tuesday, July 13. Their last time through, they were billed as the Forbidden Pigs, but the addition of Billy Bacon to the moniker makes it all the more appealing for a gig within nasal range of the stockyards. These Tex-Mex-blues-abilly men from Tucson just put out their second release for Triple Nixxxon records, Mojo Nixon's subsidiary of Triple X records (Triple X cut Jane's Addiction's first album, plus several by Antietam). This one is entitled Dressed to Swill and features appearances by such delinquents as Mojo Nixon, Country Dick Montana, and Evan Johns.
The always fashionable Chili "Pet" Rigot as Common Lw Cabin is at Uncle Pleasant's on Saturday, July 3. The revitalized King Kong will also play; their Drag City album is due to be released soon.
Tewligans brings us a number of up-and-coming national acts this month. C/Z recording artists Voodoo Gearshift are booked with Stick People for Thursday, the first.
Hula Hoop shares the stage with Insane Jane from Athens, Ga., on the 17th. Insane Jane was all the buzz at an earlier Newsouth music seminar in Atlanta, and they have two albums out on Sky Records, the same label as the Flat Duo Jets. The sixteenth looks especially cool with Records' The Texas Instruments co-billing with Hammerbox. Hammerbox has released material on C/Z records, but has since graduated to A&M. On the 10th will be Sire recording artists The Judy Bats from Knoxville, who have been given generous exposure on 120 Minutes lately. Dillon Fence, from Chapel Hill, is scheduled for the 23rd with the Blueberrys to open. Dillon Fence, like our own Big Wheel, is signed to Mammoth Records.