It's been a long week. Nashville's Fan Fair can frizzle your frazzle real quick. With over sixty hours of country music and so many new faces and new acts, it's amazing what's really happening in the music business these days. Getting up early in the morning and going to bed early in the morning makes for about three or four hours asleep. You soon start getting the BUTE (bags under the eyes) Syndrome.
I have listened to a lot of new talent recently. The competition keeps getting tougher. I even ran into a girl who wins just about everything on the radio. I was trying to get her secrets but she wouldn't reveal any information. Two years ago she won a car and she has a ticket to eat in every restaurant in Nashville. She was even kind enough to give me a few tickets to things I didn't have tickets for. She has been so successful at this sort of thing that she's thinking about writing a book on her system.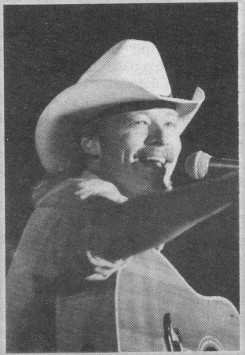 Alan Jackson at Fan Fair. Photo by Letha Marshall
While at Fan Fair I listened to the Cactus Brothers, a super group of entertainers who just recently signed a record deal with Liberty records. You will be hearing more about them soon.
Another new act is Tim Ryan. His new CD, Love on the Rocks, has a great sound. Warner Bros. artist Judd Erickson has out a new single, Toys and Games. This song has a deep message you will want to hear. Warner Bros. doesn't put out any junk. There were so many I can't mention all of them. Call your radio stations and request these new releases. There's nothing quite like it, if you're a country music lover.
Little Texas was the hot item on the menu at the private fish fry I went to at Warner Bros.
Garth's secret is out now. He will be doing the mother of all concerts in Dallas, Texas. The arena will hold 69,000 people and Garth says it will be SOLD OUT!
Congratulations to the Hard Livin' Band. Their goal was to open for a headliner at one of the WAMZ concerts at the Louisville Motor Speedway and they achieved that particular goal on Father's Day, June 20, when they opened for Toby Keith. I expect them to meet more of their goals in the future. (I have faith in you; you can be what you want to be. Good luck!)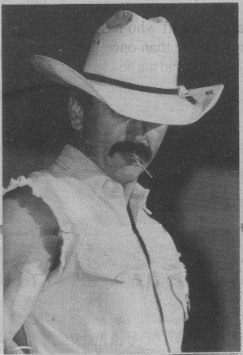 Aaron Tippin at Fan Fair. Photo by Letha Marshall
Garth Brooks is helping and hoping to save a life. He has videotaped ten public service announcements, pleading with Tennesseans to use their seat belts and child restraints. Also he is stressing not to drink and drive.
The announcements were taped on the Grand Ole Opry, with Gaylord Entertainment Co. donating production and Garth donating his time. Go get 'em, Garth! Ronna Reeves and Dean Dillon have also donated their time for safety spots on the air.
For anyone headed to Opryland soon, call to see which artists will be playing at the Chevrolet Geo Theater. Call ahead for tickets, 615-889-6611.
The line-up: July 8-9, Hal Ketchum; July 10-11, Mark Chesnutt; July 5-7, Sweethearts of the Rodeo; July 12-14, Marie Osmond; July 15-18, Tracy Lawrence, July 19-22, Crystal Gayle; July 23, Jerry Clower; July 26-29, Patty Loveless; July 30, Lee Greenwood.
I am still waiting to hear from some of the country artists in our area. Just some news on what your group has been doing and what some of your goals are in the music business. Write me in care of Louisville Music News, 7400 Cross Creek Blvd., Louisville, KY 40228. The exposure could help you and your group. Just ask the Hard Livin' Band!