John Sebastian
at Jim Porter's By Paul Moffett
On a night when another major musical icon of the Sixties, the Grateful Dead, was playing to a big crowd at the Fairgrounds, John Sebastian turned Jim Porter's main room into your basic intimate listening space.
In a club more noted for genteel cruising and schmoozing, an audience of genuine fans became quiet listeners for both Sebastian and the preceding act of Tim Krekel and the Punishers. And for good reason. Both acts managed to be at once comfortable and accessible on stage while dishing out excellent music.
Krekel and the Punishers opened the show with a string of original tunes that came on with authority and never let on that they weren't "real songs." The Punishers, composed of David Marasco on drums, Jim Wilson, guitar, Jim Baugher, bass, and Krekel on guitar, handle Thursday nights at Dutch's.
Helping the Punishers on harmonica was Alan Rhody, who had spent part of the afternoon with Krekel writing tunes. Rhody was scheduled to head out the next day but he revealed himself a Sebastian fan when he admitted that he had come to the concert thinking he might have a chance to meet the former Loving Spoonful leader.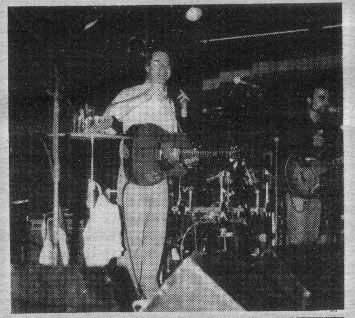 John Sebastian, left, and Jimmy Vivino. Photo by Paul Moffett
Sebastian and his J-Band followed the Punishers on stage after the briefest of delays. Dressed in an outfit that would not have been at all out of place at Captain's Quarters, he sailed into his material with enthusiasm and energy.
He and the group did many of the better-known Spoonful tunes, including "Summer in the City," "Nashville Cats," "Jug Band Music," and "You Didn't Have to Be So Nice." Throughout, Sebastian encouraged the audience to sing along, which they did.
Alternately playing the jug and washtub bass, Fritz (Rich) Richmond provided the bottom end and signature sound of the jug band. Jimmy Vivino took care of the lead guitar and backing vocals, while James Wormworth, who was nearly hidden behind the drum kit, was solidly in the pocket throughout.
Demonstrating that he has lost none of the skills necessary to the working musician, Sebastian dedicated a song to "one of the finest of jugs bands, from right here in Louisville, the Juggernaut Jug Band." The band also did some tunes from their new release, Tar Beach, the most memorable of which was the title cut, a ditty about sunbathing on the roof of downtown buildings.
Earlier in the day, Sebastian stopped by WQMF to do the "Cafe Rock" show. During the interview, Sebastian talked about a guitar player named Steve Ferguson. Ferguson, he said, was one of the greatest guitarists around and if anybody knew how to get in touch with him, please do so and tell him to come to the show.
Alerted by a fan, Ferguson showed up and was invited on stage by Sebastian, who promptly retreated to a backing mike, leaving Jimmy the guitar player in charge.
"So it's up to me, huh?" Vivino said. At Sebastian's nod, he shrugged and tore into a blues rock tune. Ferguson acquitted himself admirably and even provoked Vivino into attempting a lead with a Ferguson feel.
Sebastian closed the show with "Darlin', Be Home Soon." Afterwards, Sebastian signed autographs for all comers, hung around for pictures and got a Kentucky Colonelcy from MERF.