Solarscope
Hi, and welcome to Solarscope, the most accurate astrological predictor ever discovered. It works better than other star-reading methods because it concerns itself only with the most important star, Sol — our Sun. While the activity of other heavenly bodies may hold some sway over our human lives, none have as much impact as the Sun.
Our solarscopologists have found that the Sun is particularly effective in determining which musical event a human should attend. Solarscope-chosen concerts will have more more meaning to the concert-goer, fully engaging the senses and beneficially vibrating the upper portion of the solar plexus.
To use the Solarscope system, merely count the freckles on your nose. These pigmentations, caused by exposure to Sol, physically correlate with our internal Sol-soul continuum, creating a Solarscan system (the process of enumerating the degree of Sun-simpatico within the individual).
Blue Dwarfian (0 freckles)
Cheer up, o freckleless! The Sun shines warmly on activities held on July 2, 3, and 4 at the Water Tower (Zorn and River Road). The Waterside Art & Blues Festival will feature Susan O'Neil and the Little Dippers, Kelly Richey, Sue Foley and headliner Lou Ann Barton on Friday, July 2. On Saturday, H-Bomb Ferguson, MR2 Blue, and Curtis and the Kicks warm up the main stage before Saffire, the Uppity Blues Women. On Sunday (Independence Day), the Predators, the Metropolitan Blues All-Stars, da Mudcats, and Gary Primich lead up to Mick Taylor once a guitarist with the Rolling Stones. To get into the food and art fair and the blues mini-stage, pay $3.50. Concerts cost you $7, and a 3-day pass sets you back $18. Pay at the gate, or go to ear X-tacy for tickets.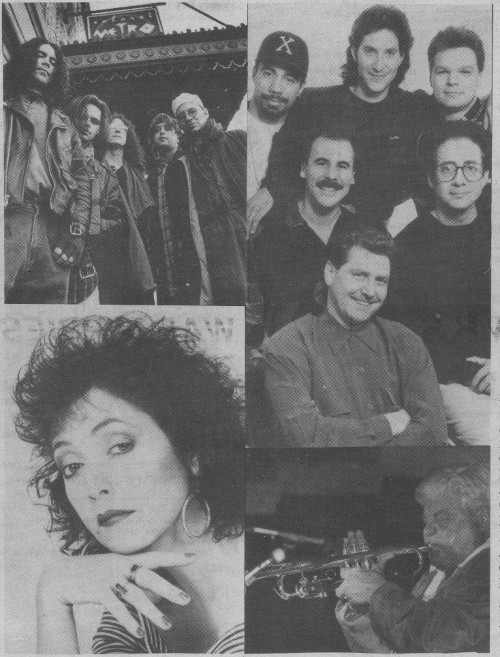 Immaculate Complexion (1 to 4 freckles)
The sun-blessed balance of your proboscis makes you ideally suited for the goings-on at Churchill Downs this weekend. It's a music festival featuring John Anderson, fiddler Clinton Gregory and Deborah Allen on July 3, and the Spinners, the Shangri-Las, Bobby Lewis and Hot Rod-Chevy Kevy perform on July 4. This collection takes you from country to Motown, with thoroughbred horse racing in between. These great acts cost you only $3 on top of the usual $2 grandstand admission.
Dappled Dermis (5 to 10 freckles)
Your skin sign signals an openness to things new and progressive. The show of choice for a Dappled Dermis is Uncle Pleasant's July 3 bill: Common Law Cabin and King Kong. The Cabin holds roots rock, groovy bass and Chili Rigot under its tolerant, cross-dressing roof. King Kong plays alternative blues like art school students on psychedelics.
Sun-Kissed (11-16 freckles)
You appreciate the unusual but want a safe distance between it and you. Killer klezmer music from Finjan is your speed, especially when viewed from the ideal setting of the Louisville Zoo. Finjan and the sparkling vocal group the Chenille Sisters play the third Roarchestra concert of the season in a special joint venture with the Lonesome Pine Special series. Call 584-7777 for tickets to the July 10 show. Or wait until July 23 for the Moody Blues show at Louisville Gardens, complete with symphony orchestra and lots of progressive rock ambition. Yes, they're old, but the Blues still give a mean ride on their seesaw.
Peppered Sunlight (17 to 21 freckles)
A ringing guitar, especially one with a Rat pedal making it roar, sends you over the edge. While the mosh pit is home, an uncomfortable chair set up in front of an adventurous, eclectic band suits you too. Make it to Tewligans Tavern on July 15 for the Drovers, a band from Chicago who plays a meticulous mixture of Celtic, rock, pop, jazz and a little something extra. The extra element? A knowledge of sound mixing that makes instruments complement rather that compete. Rare indeed.
Densely Populated (22 to 28 freckles)
You are probably a redhead, and maybe a Deadhead. You like extended jams, and that sometimes translates into an affinity for jazz. And that makes you ripe for the Jazz Explosion '93 at Louisville Gardens on July 17. Our solarscopologists tell me you have a car that works fine usually, but sometimes need repairs! Right? Right? Isn't solarscope amazing? Well, drive it on over to the Gardens for David Benoit, Spyro Gyra and Michael Franks. Or try Maynard Ferguson and his Big Bop Nouveau band on July 13 at Jim Porter's Good Time Emporium.
Spot (29 to 36 freckles)
You own a dalmatian. You don't own sunscreen. You will see Emmylou Harris at Coyote's on July 18.
Seurat-Seurat (37 freckles and up)
Your cheeks look like a pointillism painting. You enjoy songwriting that is impressionistic when viewed up close, then becomes clear with distance. Paul K's solo appearance at the Butchertown Pub on July 20 will set you spinning. You'll binge on Butchertown with another show the next night (July 21), this one featuring Over the Rhine, a tight foursome with delicate, melodic interplay.
Cancer (melanoma)
In these, your last days on earth, top-notch guitar pop is your only joy. Tewligans has a hospice happening for you on July 23: the maturing Dillon Fence and Lexington's pride and joy, The Blueberrys.