Stephen Stills at Coyote's
By Joseph J. Di Cicco
Stephen Stills is the conscience of an ever-changing generation. Beginning with his look at the 1967 L.A. riots through a song called "For What It's Worth," Stills has written extensively about the hurt, pain, anguish and suffering known as the blues. His lyrics and music have affected millions of people from the age of thirty-something on up. He has meaning. No holds barred. His music was the '70s.
He is most remembered by his association with a few guys named Crosby, Nash and Young, but their on-again/off-again relationships have made Stephen a solo on the road for years. And thanks to classic rock formatted WQMF, the June 16 gig at Coyote's was no different. Backed by two studio musicians and the blue-eyed blues keyboardist, Michael Finnegan, Stills gave the audience a 65-minute set . . . and they wanted more. A lot more.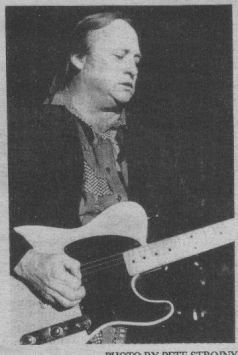 Stephen Stills
The band roughed its way through "Love the One You're With" and "Change Partners." Mistakes were made and music fumbled through. But Stills and his team finally warmed up with a look at the Amazon rain forests through a song called "Amazonia." The patented blend of folk rock with a Latin feel is one of Stills' trademarks. Later on in the evening, "Dark Star" gave us this same driving rhythm, but that time Stills lost his voice and couldn't find the words. There were no surprises to avid Stills concertgoers (although he did give us a taste of a new song he recently wrote entitled "People of Color" and he did not put the band aside to give us an acoustic set).
Stills heated up the night when he turned around and said, "Let's go downtown." His Flying V Gibson guitar ripped through one of the hottest blues licks ever in a scorching version of "Born in Chicago." He rode the guitar's neck like a madman, battling back and forth with the Hammond B3 ride of Michael Finnegan. Then Finnegan was given the spotlight in Booker Jones' (and Cream's) "Born Under a Bad Sign." The two closed their eyes, traded licks, and poured out sweat like nobody's business. A hot night capped by some hot blues.
Stills and Finnegan not only played the blues but lived it. The mileage and years have put a visible toll on him. With bags under his eyes and chin, a balding and overweight Stills gave us the CSN tunes of "Got it Made," "Southern Cross," and ended with an event that was done only once (his words), "Woodstock." He was a reminder that the late '60s and early '70s were a time of organized chaos, protest, love and change.
"For what it's worth," times have changed. It was apparent it in the crowd, as the over thirty types had to put up with the conceited "me" types (early twenties) who jammed the front of the tiny stage and couldn't care less who behind them couldn't see.
Could it have been like that at Woodstock?