Strings Attached
By Jean Metcalfe
The winners of the Kentucky Regional of the Pizza Hut International Bluegrass ShowDown munched on (what else?) pizza backstage at Otter Creek Park on May 30. Earlier in the day they had cashed in part of their winnings from the previous day's contest: an opportunity to perform on the same bill with the festival's headliner, bluegrass legend Ralph Stanley.
The current personnel of Strings Attached — Will Parsons and Shane Ingram from Berea, Ky., and brothers Danny and Randall Barnes from Richmond — have been together for about a year, although Strings Attached was formed several years ago.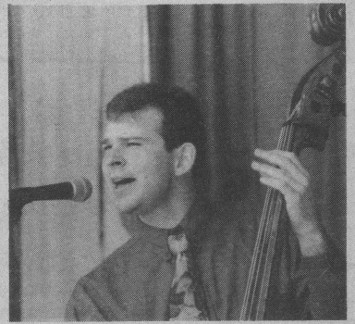 Shane Ingram, bass player with Strings Attached
The talented young foursome look forward to September 19-20 when they will collect the other part of their winnings: a chance to compete at the International Finals in Owensboro.
A win in Owensboro would bring bookings, sponsorships and new instruments to the four, but it is a chance at a recording contract that is "the key to the whole deal."
If a recording contract came their way, would they like to become full-time musicians?
"Not only would we like to, we are going to."
·
We commend Milton Harkey, International Coordinator and President of Bluegrass Showdown, and the folks at Pizza Hut for their generosity in supporting bluegrass and other genres of music.