A Summer Lights Explosion
By Wally Stewart
"You ain't doin' nuthin'!" I heard that the first night of this year's "Summer Lights in Music City" festival while Gloria Hardiman was bending the trees back on closed-off Deadrick Street with "Sweet Home Chicago." The words came from the other man in an impromptu dance ensemble I was a part of and he was teasing one of the women. The air was hot and the music was sizzling, a great start for the twelfth year of Nashville's downtown celebration of music, theater, dance, sculpture and other arts. This four-day creative explosion starts the Thursday after Memorial Day, and while walking past the five concurrently running stages you'll hear all forms of mainstream radio sounds plus world beat, reggae, big band, alternative rock and lots of others. It's an old cliche, but with its great diversity Summer Lights does have "something for everyone." One stage was devoted primarily to family and children's entertainment with artists Henry Cory, Katherine Dines, the legendary gospel group The Fairfield Four and even street tumbling.
Trying to be several places at the same time, I became familiar with the five blocks between the Metropolitan Courthouse and the Legislative Plaza festival boundaries. While doing this I was able to soak in some of the visual artistry taking place on the sidewalks and check out the over 150 food and merchandise booths. I was with some friends from Nashville and while I was dancing to the blues on Thursday they were in the immense crowd at Marty Stuart's "Marty Party." Among us we heard several different acts and had lots of stories to share.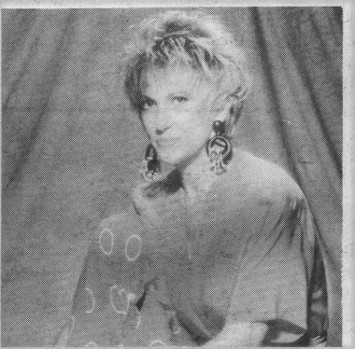 Tammy Wynette
It had been a while since I had heard Christian music's Steve Camp, but I caught part of his set, and his group put on quite a show. One show I didn't catch enough of was the Wootens, with their incredible bassist Victor Wooten. My friends and I were at Friday's "Full Moon Jam" listening to Alison Krauss, and when we left that stage we got to the Wootens just in time for the last few minutes. I'll try to hear more of them next year.
Something I've come to look forward to during my three years of SL is the songwriter stages, when writers who aren't well known by radio audiences play their songs that others have made popular. I like seeing the faces behind the hits. Don Henry sang several and Dave Mallet played his classic folk tune "The Garden Song," but the one that got to me the most was Angela Kaset's passionate delivery of Lorrie Morgan's hit "Something in Red." Those of us fortunate enough to be there were immersed in the emotion and heart she poured on us.
Since the first festival in 1982, several artists with Kentucky roots have played the event, representing diverse parts of the state, including "The Coal Miner's Daughter" Loretta Lynn, Ricky Skaggs, Sam Bush, John Cowan, Alan Rhody, Marty Brown, Jonell Mosser and the "Father of Bluegrass" Bill Monroe. Last year Wynonna Judd was the headline festival closing act and this year the Bluegrass State was represented by Lexington's Exile and Louisville native Mosser. I didn't get to hear Exile but managed to find Jonell singing with Gary Nicholson on Friday, then a couple of hours later saw her energize a packed-out audience with her band Enough Rope. Billy Ray Cyrus didn't perform but was certainly thought of on Saturday as "Achy Breaky Dance" creator Melanie Greenwood hosted performances by local country line-dance groups and taught a dance created especially for the festival.
Much more took place that I don't have room to detail, such as the indoor shows, street buskers working for tips, the Poetry Slam competition and Saturday's tribute to Tammy Wynette's 25 years in show business.
Music City is a short drive from Derby City and whether you vacation or take a long weekend, next year's Summer Lights will guarantee a lot of fun. For information call 615-726-1875, and look for me wherever the feet are moving. I'll be "doin' somethin'."