The Jayhawks
with Victoria Williams
By Allen Howie
As good as the Jayhawks were on the evening of May 25, I keep coming back to Victoria Williams. Prior to seeing their twin bill at Phoenix Hill, all I knew about Williams was that a bunch of artists, the Jayhawks among them, had recorded cover versions of her songs recently for a tribute album. Since collections of this kind usually arrive when an artist reaches a fiftieth anniversary or some other milestone, I was curious — why Williams, and why now?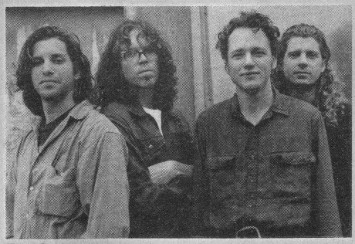 The Jayhawks
The answer came ten seconds into her set. Accompanying herself on guitar (and occasionally harmonica), with help on violin and harmonies from Mike Russell, this woman I'd never heard before played some of the most intriguing music imaginable. My poor brain scrambled frantically for comparisons, for some accurate way to describe this spell she was weaving so effortlessly, but as quickly as they came to mind, she'd take a turn that made them obsolete.
Williams' hard twang seems to come and go at will, here for one song and gone without a trace the next. She discarded characters as fast as she slipped into them, from after-hours chanteuse to born-again gospel singer, wide-eyed folkie to pop crooner. Her playful sense of timing was perfectly suited to her uncanny knack for finding notes where you wouldn't expect anyone to look, making the fourteen songs she performed as melodic and interesting as anything you can think of.
All of which made a tough act to follow. Fortunately, Minnesota's Jayhawks were up to the task, running through a taut set that covered their critically acclaimed Hollywood Town Hall album and then some. The live version of "Two Angels" leans a little more to the country side than the studio take, while the sturdy rhythms of "Nevada, California" laid a solid foundation for the band's rough-hewn visions of America and Americana.
The Jayhawks' hard-edged cover of Tim Hardin's classic "Reason to Believe" might not eclipse Rod Stewart's benchmark version, but managed to come within shouting distance of that impossibly high standard all the same. The tough melodicism of songs like "Take Me With You (When You Go)" and "Settled Down Like Rain" was in evidence throughout the show, even in the fierce Stones-ish buzz of "Sister Cry." Nearing the end of their set, the band roared into "Waiting for the Sun," erecting a massive wall of sound and then demolishing it. In spite of a late start (a few grumbles were being heard by the time the Jayhawks took the stage at 11:00), the combination of Williams' whimsy and the Jayhawks' bristling energy made for a satisfying evening of truly original music.