The Subdudes
at the Phoenix Hill Tavern
By William Brents
The Subdudes' June 17 performance was undoubtedly a wonderful example of how music can both entertain and transport one (or in this case a few hundred) to a blissful utopian place in which live music and dance rule.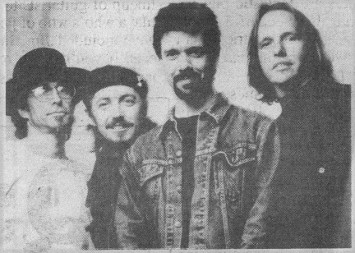 The Subdudes
"I want everyone to remove their shoes and start dancing," exclaimed the vocalist, who possessed a stirring, soulful voice. It became apparent after the third song that this four-man band could truly and effortlessly display any style challenged upon them. Zydeco, rock, R&B and soul were heard in the first set alone.
During that fine first set The Subdudes played several new songs, one a gorgeous radio-ready ballad entitled "Cold Night," and the other a dance-inducing mid-tempo gem that, of course, filled the small dance floor with enthusiastic concertgoers. They mentioned that the new songs should appear on their next recording for Atlantic in January.
Most impressive was their spirited three-part harmonies that absolutely soared with great emotion.
One would be hard pressed to find a group that blends their individual talents so prominently while all along having a sheer blast. NRBQ is one band that comes to mind because they both slapped a smile on my face.
The newly formed blues/rock band The Predators began the night's festivities with a heated set of powerful blues. Led by vocalist Jimi V., the band tastefully muscled their way through classic songs by Stevie Ray Vaughan, Buddy Guy and a stunning version of Muddy Waters' "I'm Your Hoochie Coochie Man."