God bless Conway Twitty.
I have a lot of ground to cover this month, everybody, so I'll try to keep it interesting.
First and most important on my mind is, in itself, a first. I have enjoyed performing — a total of three times now — on what I consider to be the only real honest-to-goodness folk festival in the state. I'm speaking of Kentucky Music Weekend. The festival held at Iroquois Park and Amphitheater will be number eighteen this year, and I'm proud to be appearing on the Saturday evening and Sunday afternoon segment, making this my fourth year.
Nancy Barker, founder and organizer of a mind-boggling number of events, contacted me about teaching a songwriting class during Kentucky Music Week. This is the five days of adult educational classes dealing in all sorts of instruments and crafts that follows the weekend festival each year. Now it is official. For the first time, Kentucky Music Week will offer two different class/workshops in songwriting taught by yours truly.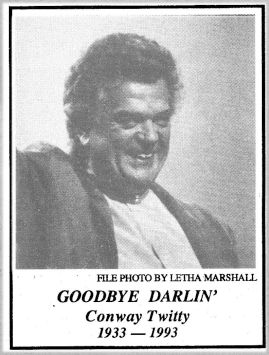 The classes, "beginning" and "intermediate and up," will be held at the Hampton Inn in Bardstown, along with all the other classes this year, instead of Bellarmine College as in the past. I believe the new locale will be a great "getaway" as well as educational.
This all starts with an informal jam at the Hampton Inn, Bardstown, on Sunday night, August 1, following the close of the weekend festival that afternoon (complete with catered food!). The sessions, one at a time or in a package offer, are very reasonably priced. So I invite all songwriters, aspiring or otherwise, to sign up and plan on having some fun as well as improving your craft. The dates again are:
Kentucky Music Weekend, July 30-August 1. As always, great musical entertainment for the whole family as well as arts, crafts, afternoon mini-concerts, street dancing and camping. This Kentucky tradition, which brings in talent from around the country plus regional favorites, is FREE TO THE PUBLIC!
Kentucky Music Week, August 2-6. Classes and much, much more.
For complete information write: Nancy Barker, Kentucky Music Week, P.O. Box 86, Bardstown, KY 40004, or call Nancy at 502-348-5237.
Next on the bill is a little road trip I took recently which seems like it started a long time ago, but actually was the end of May and most of last month. It began right there in Louisville at the now well-known and respected Rudyard Kipling Restaurant/Theater at 422 W. Oak St.
This gig has become as comfortable as coming home to me, for a couple of reasons. One is named Ken Pyle, the other is named Sheila Joyce. Ken and Sheila are special to me not only because they're fine human beings, but because they were two of the first people to allow me to set foot on a stage some years ago and experiment with my music.
Ken and Sheila, for those younger readers here, took over what used to be The Shack on Bardstown Road from Eddy Donaldson in the mid-sixties. The Shack was actually the first place for me. For one brief hellish moment. That was that fateful night my cousin, Linda Schaaf, and her boyfriend talked me into going to The Shack with them and bringing my guitar, with the intention of getting up in front of complete strangers and performing a number or two. I knew at least two or three songs all the way through at the time. On this momentous occasion The Shack, which was as much a jazz-blues bar as anything else, had a mixed crowd, but mostly black clientele. Eddy, who was a rebel at heart and had married a black woman (very controversial for Louisville of the mid-sixties) was all smiles, remembering our family from Middletown and Eastern High School. Anyway, what screeched out of my throat was a shaky version of "House of the Rising Sun" as I pounded that poor Gibson with my right thumb. That was my style then, folks, "nervous thumb pounding." I don't remember anyone asking me to do another song. I wasn't old enough to drink anyway and got the hell out of there. Eddy went on to open 118 West Washington Street, which was the first club down there before anyone else thought of it. Ken and Sheila took over The Shack, renamed it The Round Table Theater, later changing the name to the Storefront Congregation. Many a famous (and unfamous) singer and musician cast a shadow on that little stage for the next seven years. So thanks to Eddy, Ken and Sheila, the world has one more singer and songwriter to deal with.
Now, leaping back to the nineties, and my last date at The Rudyard Kipling, I'd like to say thanks to Wally Stewart who has covered the door for me more than once.
Moving on, late May found me headed for the Flora-Bama on the gulf coast of Florida right at the Florida-Alabama state line. Now, folks, I can only promise to elaborate on Flora-Bama land in the future, as it warrants a lot more than just a mention. I assure you it'll be worth the wait.
(Continued next month.)