Wink shines
El Moodio (Atlantic)
Eleventh Dream Day
By Mark Clark
New Eleventh Dream Day guitarist - and former Louisvillian — Matthew "Wink" O'Bannon makes a stunning debut on the band's newest release, El Moodio.
Thanks in large part to O'Bannon, a former Bodeco axman who once worked as a roadie for Eleventh Dream Day, El Modio is a guitar wonderland. Its horizons are bounded by O'Bannon's surprisingly twangy power riffs and its streets are lined with his eccentric, jagged-edged solos.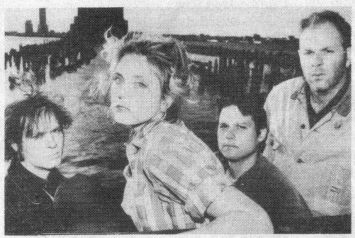 Eleventh Dream Day
O'Bannon's manic, even brutal style at times borders on psychedelia, but with none of the usual bluesy or Hendrixian influences. Want a mental picture of O'Bannon's sound? OK. Recall Neil Young's skull-rattling, Rust Never Sleeps-era electric solos.
Got it? Now envision Neil playing the same licks, wired on mescaline and about a gallon of coffee. In high gear, O'Bannon sounds something like that. None of this praise for Wink should suggest that the rest of Eleventh Dream Day don't pull their weight. El Moodio is loaded with clever tunes by singer/songwriter/guitarist Rick Rizzo, who gets solid support from bassist Douglas McCombs and drummer/vocalist Janet Beveridge Bean (another transplanted Louisvillian).
"Makin' Like a Rug," which opens the disc, is as good a song as I've heard all year. It bursts out of the gate with some hillbilly-punk chops from O'Bannon, then slows to a gallop while Bean (in a wonderfully flat talk-through) and Rizzo weave a sordid story about an abused wife who strikes back at her perpetrator. Rizzo contributes a nice choral hook ("Love is a one-way ride/You can't buy a ticket out"). O'Bannon adds the first in a seemingly endless series of scintillating solos.
"Figure It Out," which queues up next, is a dark, atmospheric number. It also features a Rizzo/Bean duet and another terrific solo by O'Bannon. Another Louisville expatriate, former Antietam guitarist Tara Key, joins the band for "The Raft," a trippy little ditty about dreams, nightmares and dreams within dreams. "Rubberband" features the wildest of O'Bannon's solos. He sounds like he's moving in four or five directions at once.
"Honeyslide" is a sweet, melodic tune that improves with repeated listens. The track may prove daunting at first because of its length (8:04), but eventually its idyllic groove and sentimental lyrics will thaw the frostiest heart. "You make me feel like time's not real," Rizzo croons. I have no idea what that means, but I know exactly how he feels.
If you're a longtime Eleventh Dream Day fan, a Bodeco follower or just somebody who digs quality guitar licks, you need to check out El Moodio.