Second Thoughts
Highly Pleasing "Don Pasquale" Concludes KO's Season
Now if you enjoy beautiful music and can relish comedy, you would find Kentucky Opera's 41st Season Finale, Gaetano Donizetti's "Don Pasquale" to your liking.
Here briefly is the story: Ernesto, the rich old bachelor's nephew, loves Norina, a young widow, so he refuses to marry his uncle's choice. Irate, Don Pasquale kicks Ernesto out of his house and disinherits him. Deciding to marry himself, Ernesto's friend, as a ruse, introduces Norina to the Don as if she was his sister, just returned from a convent.
Pasquele marries her immediately, unaware the ceremony is a fake. Up till then, appearing all sweetness and innocence, Norina plays the demanding and extravagant hussy, driving the old man almost out of his mind. When he demands a divorce, the Doctor confesses his plot and that leads the uncle to approve the marriage of Ernesto and Norina.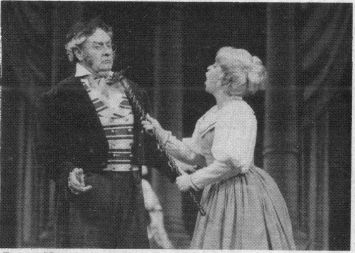 Roger Havranek as Don Pasquale and Pamela Hinchman as Norina
This is the fourth time Kentucky Opera has staged the work. Conductor Bob Bernhardt considers it one of the composer's three masterworks. When you consider that though he only lived to be 54 and composed 60 operas, that is high praise. Donizetti ranks with his fellow Italian and contemporary, Rossini, as the master of comic opera with a touch of satire. Don Pasquale is a man in his 70s.
Now to enjoy this work, one needs to become familiar with its story and also pay continuing attention as the tale unfolds. This is no small demand because as Roger Havranek, back with us for a second triumph in the title role, told Louisville Music News: "There is a lot going on here and Pasquale is right in the middle of most of it. It demands both singing and acting talents." Havranek, who is also the full-time director of the voice department at Indiana University's School of Music, is more than up to these demands. He has sung this role more than a dozen times.
What does that ask of him? He has to depict Pasquale in moods ranging from anger, shock, ecstasy and depression. He appears as a distraught and frustrated uncle, a joyfully expectant lover, a jealous husband and an impish schemer as his partner in intrigue, Dr. Malatesta, played to the hilt by Ron Baker. The good doctor is well named since Malatesta means a witness to evil. He is something of a double agent, a marriage broker for the Don and an ally of Ernesto in his plan to marry Norina.
In the midst of all this intrigue, Bob Bemhardt conducts with his accustomed zest if not joy. Watching his laid-back but knowledgeable skill, one can almost forget how much work it takes to master and conduct such a work. Director John Hoomes, though unseen by the audience, shares honors with Bob.
One of the unexpected pleasantries of this performance was the skillful and charming presentation of Pasquale's major domo, played with obvious know-how and delight by David Pate, a long-time veteran of the chorus.
Another performance of more than passing interest is that this is an opera with only one feminine role. It, too, is demanding of high vocal and acting skill and Pamela Hinchman meets the tests with high marks. One feels that she is moving upwards in her career.
Finally, 1993 marks the 150th year since "Don Pasquale" was first performed in Paris.