Big Head
By Paul Moffett
If you have been lamenting the lack of live technopop in Louisville, cry no more. You can now hear versions of tunes by Depeche Mode, Information Society, Nine Inch Nails and 2 Unlimited right here in Derby City.
The band with this technological wizardry: Big Head.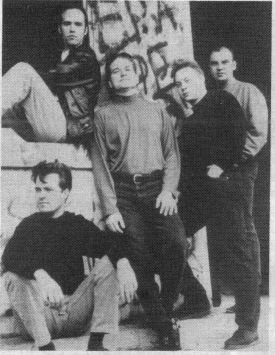 Keyboardist and vocalist Jeff Epperson and drummer Gordon Shirley, who were formerly with the band Jou Jou, decided to put together Big Head just so they could play the music they like. They added Steve McGee from the Bagmen on bass; Tom Clemens, formerly with Situation, on guitar and vocals; and recruited singer Kevin Garvey from The Next to complete the quintet.
They also found Dave Hanley to handle the sound and light show. Because Hanley works with Musson lighting, he often shows up with new and interesting lighting equipment to stir into the mix.
Epperson noted that when Big Head plays at the Vogue in Indianapolis, they have a full-blown light show.
The group has been together since November and has progressed to the point that Triangle Talent has begun to handle their booking. Epperson said that the group likes to describe themselves as alternative.
Like nearly all other players in town, the members of Big Head have day jobs to pay the bills. Jeff Epperson is an electrical engineer; Gordon is a student at Bellarmine; Steve works for Kurfees Paint; Tom is an assistant child pysch at Baptist East and Kevin works for United Parcel Service between classes at U of L.
The whole band writes and they are planning to start work on a CD project in mid-summer.