Bluegrass Beat
This should reach some of you in time for it to serve as one last reminder. What reminder, you ask?
The Otter Creek Park shindig the weekend of May 29-30; the Pizza Hut Showdown bluegrass talent search on Saturday and the festival on Sunday. Crafts, bluegrass music, out of doors in the spring, a contest— what better way to get the festival season going? And all right here at home. Let's be there.
When you read this, the season of Friday night bluegrass shows at Shepherdsville will be over until fall. There have been some good shows there — and a lot of you weren't. Charles Whitstein was there the night Petticoat Junction was. Everyone thought it was a good night of music. Many were seeing Charles for the first time and were really impressed with him, both as a person and as a performer. One thing that really got them was how much he sounded like Ira Louvin. Man, it's almost scary. I'll be looking forward to seeing them again.
Rumor department, reasonable source and I hope it is all wrong: I have been told that The Boys From Indiana will be breaking up after they fill their commitments for this year. I will try to find out more about this and let you know when I know. This is too good a group to fall apart and go away. Fellers, tell us it ain't so! Please!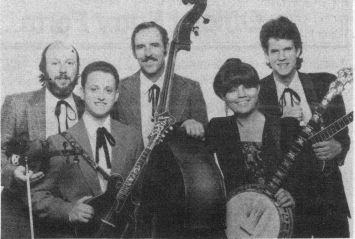 The Lyunn Morris Band
The festivals are coming and they are here. Besides Otter Creek Park May 29-30, The Festival of the Bluegrass will be held at the Kentucky Horse Park in Lexington, June 10-13. During those days a few of the bands that will be there are Alison Krauss, Seldom Scene, Doyle Lawson, Lewis Family and many more.
One of my most favorite festivals is the Charlotte, Michigan, festival. This will be its 21st year and, I think, about my seventh to MC. My name is on the fliers, so I guess I had better show up. Folks, I'll tell you right now, it is worth the trip. And the trip really ain't that bad either: Interstate 65 to Indianapolis, then Interstate 69 and get off at the Charlotte Eaton County Fairgrounds exit.
Let me tell you who is going to be there again this year: Bill Monroe, Ralph Stanley, Charlie Sizemore, The Lewis Family, Randall Hylton, Dry Branch Fire Squad, l Jim & Jesse with Mike Stevens, the Warrier' River Boys, Bill Grant & Delia Bell, Wade & Julia Mainer and that ain't all by a long; shot. I think I'd better tell you when; June 24-27. There is not a better festival around, Don't take my word for it, meet us there and see for yourself.
July 1-3, the festival at Renfro Valley. A great lineup down there; to name a few, Randall Hylton, Del McCoury Band, Osborne Bros., Lewis Family, Boys From Indiana, Raymond Fairchild and Jim & Jesse.
I told you the festivals are here.
Just a brief deviation, but I want to pass this on to you. On June 12, a special Saturday night at the Country Music Place at Shepherdsville: Gene Stewart and if that weren't enough by himself, Rick Williamson, Bob Geary, Tom McGannon and — no, folks, not an imitation, the real article — The Classic Lonzo and Oscar. All of this for four bucks; kids 6-12, $1; and a senior citizen discount.
Thanks to Lady Jean M. for the nice tag comment in the last issue regarding our retirement. [Berk's, not his and mine! - Editor] YES! This retirement stuff is great; everybody ought to do it once, at least.