I've Got A Mind To Ramble
When Albert Collins comes to town, it is a blues event. I can remember back in April 1986 when he shared the bill with KoKo Taylor at the Seville Diner Pub, which is now Roadrunner Video on Bardstown Road. As a group of us were approaching the back of the place we noticed someone in dirty clothes working on the engine of this big touring bus. Sure enough, it was Albert tinkering around with the engine. He said he enjoyed working on his bus and fine tuning the motor. Later that evening he also fine-tuned his vintage Fender Telecaster for an extraordinary evening of blues. Albert also has a mind to ramble and during his performance he walked out of the Seville and was serenading the people passing by on Bardstown Road.
Albert and The Ice Breakers returned again in July 1989 to play at Phoenix Hill for a conocert co-sponsored by the KYANAB1ues Society. Debbie Davies was playing second guitar with the band then and was trading licks with the "Master of the Telecaster." Debbie has since left the band to form her own group and has issued a cassette — in 1991 — of a live performance. Albert was in fine form that night and rambled out into the Phoenix Hill parking lot during the show.
On April 10, for the third time in eight years, Albert returned to Louisville — for a nonstop show at Jim Porter's. The cool sound of Albert is unique and there are no imitators. A musicologist might define it as an open D-minor key tuning with the capo clamped halfway down the neck to get his unorthodox sound. Albert sends chills up my spine every time he hits one of those long, deep metallic notes that pierces the air and then abruptly shatters it with a barrage of piercing notes. He is a performer ready to explode, always grimacing his expressive face and always animatedly moving around the stage. During a long shuffle instrumental he rambled again outside, with his long guitar cord trailing behind him. It is a strange phenomenon to have all these stinging notes coming out of nowhere while the rest of the band continues to play on the bandstand.
Albert started off with "I'm Your Ice Man Baby," followed by one of my favorites, "Black Cat Bone." Then he slowed it down with "Too Many Dirty Dishes," Guitar Slim's classic "The Things That I Used to Do," and "You're playing with My Mind." He got the crowd into the action with "I Ain't Drunk, I'm Just Drinkin'." For an encore Albert finished the evening off with "You Talk So Much" and then his greatest instrumental, "Frosty."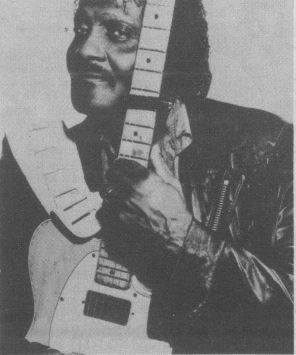 Albert Collins
The horn section was at times very tight and then occasionally a little ragged keeping up with Albert's unpredictable guitar work. He referred to them as the "White Trash Horns." There is a lot of Texas in Albert's playing from his early days in Houston when he jammed with T-Bone Walker and Gatemouth Brown, plus that unmistakable sly, raspy Texas drawl that can be sarcastic and humorous.
The concert was opened by Doug Wright and his band, which seems to change each time he performs. This time Tim Krekel was on lead guitar and it was a real treat to hear this excellent musician play some tasteful blues guitar.
l'm getting very excited about the Chicago Blues Festival, which will take place over the Memorial Day weekend. In addition to three days of music on the three stages, a Blues Pub Crawl through the clubs on the South Side is planned for Friday night. This tour, which is promoted by Michael Frank of Earwig records and Felix Wohrstein, will introduce the participants to the lesser known musicians that play the South Side, like Johnny Laws and ex-Muddy Waters alumnus Pee Wee Madison. The big treat will be a post-festival blues bash on Sunday at the Club United Nations, which is within walking distance of the festival. The show will feature Willie Kent with Bonnie Lee, Johnny B. Moore, Eddie C. Campbell, who has just returned from Europe, the Jimmy Dawkins Blues Band and the charismatic vocalist from the '60s, Ricky Allen. I'1l tell you all about it in the next issue of LMN.
Marie Dixon, the daughter of Willie Dixon, has recently bought the old Chess Record studios located at 2120 Michigan Ave. in Chicago. (Remember the Rolling Stones song about this famous address?) This hallowed ground will become the national headquarters for the Blues Heaven Foundation. The organization had been a dream of Willie's to preserve the music he did so much to promote in Chicago. How fitting it is that Willie's legacy has come back to the place where he shaped and defined the definitive sound of Chess Records.
Henry Woodruff, of Henry and the Noisemakers, has suffered another stroke and is in the Frazier Rehab Center getting physical therapy. Henry was the first recipient of the Sylvester Weaver Award, has performed on Homefront and was featured in the June 1990 issue of Louisville Music News. Let's hope Henry can get back on his feet again.