THE LUCKY 7 LIST OF NIGHTS T0 G0 OUT THIS MONTH (AND WHY)
NO. 1. TUESDAY, JUNE 1: All you 21-and-over post-punk freeloaders can catch two cool shows for free tonight. Begin at Butchertown Pub at around 10 p. m. to see the first show in Louisville by Braniac, a rather heavy alternative band from Dayton that is quite popular on the other side of the Ohio River.
While they're breaking down their equipment, buzz over to Cliffhanger's and see what the alternative jazz of Bazooka is all about. Word has it that fIREHOSE fans should be quite entertained. Then, hop back in the car and witness a rare not-all-ages show by Crain. Crain recently completed a tour ranging from Minnesota to Texas (and beyond) and in the process has attracted the attention of several national independent labels (and also a native American gambling establishment on a reservation outside Minneapolis).
2. FRIDAY, JUNE 4: Tonight Bodeco is headlining at Tewligans and Bodeco's always a good time, albeit potentially twisted. To make it even more interesting, they will be preceded by the traditional country roots stylings of the Palace Brothers. Opening the show will be Sit and Spin, a cleverly dubbed ensemble of some of the folks from Guitar Emporium.
No. 3. SATURDAY, JUNE 5: Providing a much-needed alternative to the usual alternative hangouts, Hula Hoop is heading the bill of an 18-and-over show at The Rudyard Kipling. Hula Hoop returns to England on July 1 in order to record a second session with producer John Peel and will then launch a second two-week tour of the U. K. By then they will have two new European releases. The first is on a British label (Fluff) and is entitled My Sweet Amputee. Artwork for this one is provided by [Lisa] Suckdog member Dame Darcy (Debbie's replacement). The other is a split LP on a German label with a band from England called Boy Racer, entitled A Turntable Friend. Opening this event is the new pet project of Chili Rigot, Commonlaw Cabin.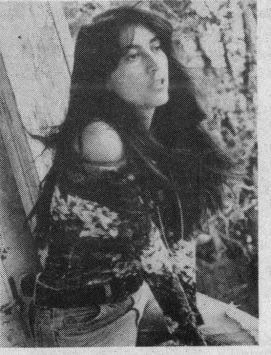 Susan Voelz
NO. 4. TUESDAY, JUNE, 15: It's another freeloader's delight tonight with two good shows within a five-minute drive of each other. At Cliffhanger's the heavy East Coast guitar rockers Psychomotogoat return and share the bill with Slo-Pok. At the other end of Spring Street at Butchertown Pub, Enormous Richard checks in with us as they begin a new tour. Opening is a new band from Austin, Texas, on Pravda records called Javelin Boot. Probably the greatest achievement by this trio is their contribution to Pravda's K-Tel tribute compilation, a more masculine version of ABBA's "Knowing Me, Knowing You," that was later lauded on National Public Radio's "All Things Considered. "
NO. 5. WEDNESDAY, JUNE 16: The Louisville-Austin connection continues with Alejandro Escovedo in concert at Butchertown Pub (gee, it only costs $2 too). Alejandro is one of several musically inclined members of a family tree that includes former Santana percussionist pete Escovedo and Pete's daughter, the successful Sheila E. Alejandro co-founded the cowpunk band Rank and File and later hooked up with his brother Javier to form the True Believers. Now he has released a solo LP representative of pretty much everything he's done in the past few years and is touring with a back-up band including the likes of Susan Voelz, the violinist for Poi Dog Pondering. Susan will also be returning to Louisville on Wednesday, June 30 (with her own band) and co-bill with the Loose Diamonds at Butchertown Pub.
NO. 6. FRIDAY, JUNE 18: Making their second Louisville appearance, Acumen performs at Uncle Pleasant's tonight. They first played town opening for Eleventh Dream Day back in March. Musically, they tip the alternative side of the scales and involve world-beat excursions with a little reggae rolled in for flavor.
NO. 7. SATURDAY, JUNE 25: Back at Uncle Pleasant's we have the new buzz-band, The Bisquits. The Bisquit recipe includes Will from Will and the Bushmen and Tommy from Government Cheese. Fans have described the music as loosely reminiscent of the New Duncan Imperials, possessing "the fierce spirit of Pigtail Duck," but in a little more well-behaved manner. Imagine NDI acting as if they graduated from college (which they did, by the way).