It amazes me how many young people are turned on to country tunes I see it more and more every day. I work in a high school where country music is played in the lunch room at lunch time Now what is that saying for the new generation of this boot scootin music'? The kids love it. As you walk into the lunch room you can glance over and see someone singing with Garth Vince, Travis Tritt and Marty Stuart and Reba has slid in there too. It's great!
And it's a fact that the young adults I3 34 years of age account for 36.7% of all country listeners and the total is rising day by day. The top ten country artists grossed $84 million in 1992. This is a 60% increase since 1990. I love it. This says that we are doing our job of spreading the word that country music does rule these days. Your country fan is different from any other fan you will find. These people want to get as close to their favorite artists as possible The more they know about them the more they love them. It's a close knit bunch of people A lot of time it s known as the family of country and there sure isn't anything wrong with that.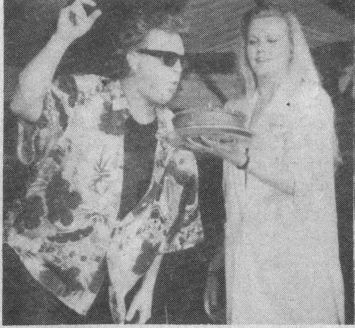 T. Graham Brown blows out the single candle while Jo Lynn Ladner holds the birthday cake.. Photo by Jan Winders
WHKW 103.9 held its first summer concert for 1993 on Derby Eve at the Water Tower. And it was more than just a concert — it was also a birthday bash. WHKW is now one year old. T. Graham Brown performed at this Hot Country station's celebration. Everyone had cake and, most of all FUN at the Water Tower with Bruce Logan and Jo Lynn and all the jocks from WHKW 103.9.
Jo Lynn had something to say that she wanted everyone to hear: "Huh, they said we wouldn't be here a year." I guess the station fooled a lot of people. Jo Lynn is the sidekick in the mornings with Program Director Bruce Logan; I guess you could say she is his partner in crime. Bruce thanked everyone for listening to the new station.
WHKW will be putting on its second concert of the year at 3 p.m. on May 30, at the New Albany Amphitheater. Confederate Railroad will be headlining and local bands Trick Rider and Ron Peake & Open Country will be featured. Be there —IT'S FREE!!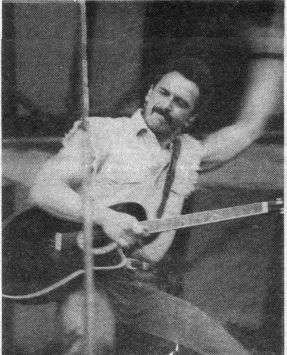 Aarom Tippin. Photo by Lisa Massey
Rev 'em up, people! Travis Tritt, Dwight Yoakam and Wynonna Judd will be featured in "Harley-Davidson: The American Motorcycle," a 73-minute video. For ordering information, call 1-800-55-FEVER.
Vince Gill made his first ever hole in one while he was playing in the Phoenix Open for a couple who had entered a drawing with the National Hole in One Association. His effort won the couple a $175,000 home and $25,000 in cash. I'll bet he was sick!
Travis Tritt, who has always been interested in car racing, recently bid on the Alan Kulwicki Race Team sponsored by Hooter's. `The team went up for sale after Kulwicki, the 1992 NASCAR Winston Cup points winner, died in a tragic plane crash. Travis was outbid and won't be surrounded by those Hooter Honeys. Better luck next time, Travis!
WAMZ had its first concert of the summer at the Louisville Motor Speedway on May 16. The gorgeous and talented Aaron Tippin swept the females off their feet, as usual. The rockin' Gibson Miller Band was a crowd pleaser along with our own local band Uncle Pecos. Attendance was about 20,000.
Farm Aid VI was the experience of a lifetime. The drive through Iowa was just beautiful. All of the working farms and the land filled with productive crops give a person a feeling of pride. It seems that the people who live away from the farms don't care how the food they eat is grown; they really don't know how to appreciate nature.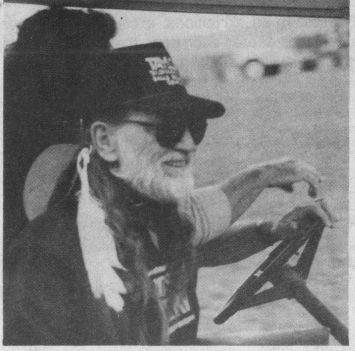 Willie Nelson at Farm Aid VI. Photo by Jan Winders
Farmers who used to care for the farms and plant the seeds are now homeless and sleeping under bridges. This has become a way of life for these people. When the farmer is making money, everyone is making money. Farmers are now standing in long unemployment lines or seeking help from various countrywide organizations such as Farm Aid. We must rebuild our country. This is a sad ending for a story. There were over 50 acts that performed in Ames, Iowa, at Farm Aid. They all donated their time to do what they could to help America's farmers in need.
The Nashville Network Music City News Awards will be broadcast live on June 7 at 9 p.m., from the Grand Ole Opry House.
A portion of the proceeds from the 1-900 voting number will be donated to various Nashville charities. Last year $30,000 was donated.