May's Showcase
By Michael Layman
A small, but enthusiastic crowd gathered at the East End Coffee House (aka Ascension Church) near Eastwood to hear and enjoy our May Showcase performers. Our first performer was Michael Tilford. Mike is one of the LASC'S finest singers. He recently completed a project with Doc Dockery and Bobby Lanz. The triumvirate received a bit of local air play on WHAS Radio, with its UK Song, and a Derby Tune called "To The Thunder", which Mike performed during his set. Michael's mucic is a mix of christian contemporary and country. The songs are terrific, and made even better by his great voice. He reminds me a lot of Dan Fogelberg.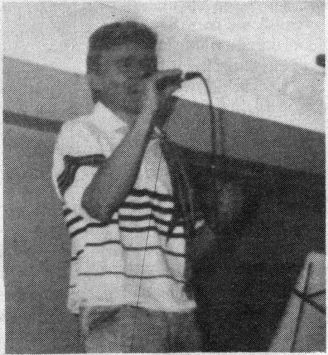 Earl Meyers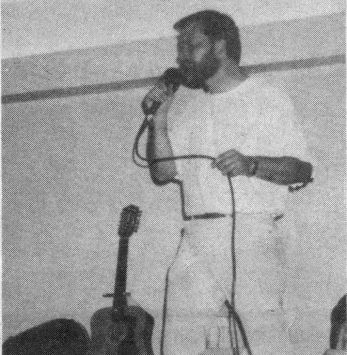 Michael Tilford
Next up was Jonathan Miller one of our new board members. Jonathan combines folk and jazz with his 12 string and does a great job. He began his set with a tune called "Vision of an Angel" dedicated to his wife. He too is a fine singer, and a magician with the guitar. One of the things Jonathan likes best about the LASC is the showcase. he really enjoys playing "live and unplugged" and his performance showed it. A special thanks to Jonathan's wife, for taking those great photo's of each performer.
Our third performer was Mark Gibbs. Mark is pure "hot country". Mark is one of the hardest working members of the LASC. He just completed a project of 10 tunes called "Songs of Life" available at Ear Xtacy. Mark was accompanied by Jonathan Miller. The most moving tune of the night was a song Mark dedicated to his mom, it bought a tear to eveyone's eye. Great job Mark!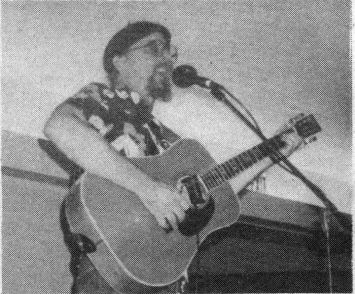 Paul Moffett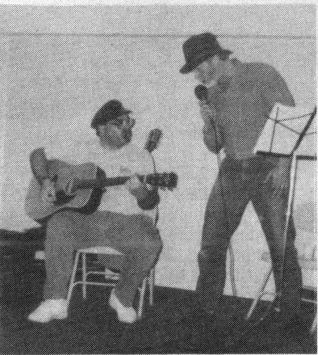 Jonathan Miller & Mark Gibbs
Our forth artist of the night was the LASC Prez, Paul Moffett. paul said it had been a while since he actually performed and he was a little nervous, but he certainly didn't show it. Paul combines folk and country in his tunes. Paul has several songs that are currently being performed by some of Louisville's best bands, including John & Allen, and Ms. karen Kraft. Paul began his set with a Bill Ede tune called "Penny made from copper in 1943, and then broke into to some of his own material.
Each of our performers did a great job. Our next showcase is scheduled for September. Interested performers should contact Jonthan Miller or Tim Lynch.