Notre Dame Glee Club Warms Cold Winter Night
By Henry C. Mayer
'Twas the 13th of March
An eve with snow on the ground
With cars keeping their traction
Coming hither and round;
Darkness came and with it a bus.
Youngsters alighted without a fuss.
The bus had been on the road from Arkansas almost since daybreak but the passengers were more than ready to make music. A tantalizing array of home-cooked foods awaited them and, after they made short work of these vitalizing victuals, they moved into the hall and filled it with music.
The youngsters were concluding a ten-stop tour and, by the next day, they would be on their way back to Notre Dame. They were the Notre Dame Glee Club led by one of the more recent additions to the faculty, Tennessee-born and Yale-educated Mark Ring. Clad in tuxes, the singers spiced their program with variety. One could find hymns by 16th century masters such as Benjamin Britten and Aaron Copland and Maestro Ring's mentor, Fenno Heath. And when they closed with "Notre Dame, Our Mother" and the more famous "Victory March, as all their concerts do, they graciously invited two local alumni who had once sung in their ranks, Ed Aubrey '40 and Terry Vollmer '51, to sing with them.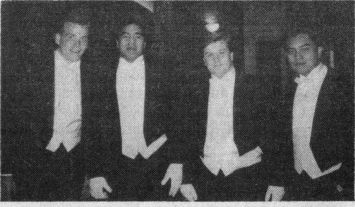 Left to right:L Pat Babka, Kaipo Punahele, Joe Dziedzic, Enrique Bernardo. Photo by Henry C. Mayer
It is hard to single out individuals in such a concert because a glee club is a team effort. Yet even on a team, there are moments for individuals. In this case, Chris Mehl and Mark White, among others not noticed, expressed themselves at moments with an animation and joy that warmed the hearts of all present. Thomas Williams of I Canterbury, England, provided sparkling piano support and at one point Maestro Ring yielded his baton to Andy Druckenbrod.
Members came from various states and foreign countries. The quartet in one picture included Pat Babka from Omaha, Kaipo Punahele, a native Hawaiian, Joe Dziedzic from Minneapolis and Enrique (Henry) Bernardo from the Philippines and Indonesia.
There was a zest in their performances which belied ten days on the road. Whether it was the plaintiveness of "Sometimes I Feel Like a Motherless Child," the Latin vitality of the "Tarantella," the longing for God's presence in "Soon, ah will be done," or the memorable juxtaposing of prayerfulness and love for one's mother in Victoria's "Ave Maria," each number was rendered with poise and talent.