Shelton Smokes at Philip Morris Event Photo
By Jan Winders
Philip Morris USA came through with a very successful free concert this year for its annual Derby Festival concert.
Popular singer-songwriter Ricky Van Shelton headlined the April 29 event at Freedom Hall and it was an evening of excellent country entertainment.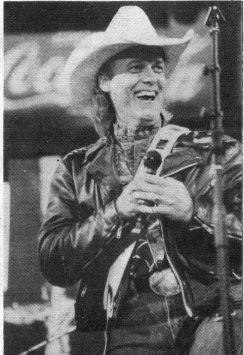 Ricky Van Shelton performed at Freedom Hall on April 29. The photo above was taken at Farm Aid VI five days earlier. Photo by Jan Winders
Shelton has all of his ducks in a row these days; "Tales From a Duck Named Quacker" is the title of a new book he has written for children to teach them how to accept one another. It is just one in a series of books by Shelton that focus on values for children.
Shelton's unmatched sincerity reaches into the audience with every note he sings. And with seven albums and numerous awards under his belt, he is said to be one of the hardest working artists in the business today Despite his success (four albums in a row went platinum), Shelton still knows where his roots lie And he knows where he wants to go in his career.
In May of 1992 he released Don't Overlook Salvation, a gospel recording dedicated to his parents and he has penned enough songs to release a super hits album.
"I never set out to make hits, I just record songs that I believe in," Ricky said.
The beautiful Lorrie Morgan opened with a nice selection of crowd-pleasing numbers including her recent very popular hit "Something in Red."
The address for Ricky Van Shelton's fan club is P.O. Box l20548, Nashville, TN 37212-0548.
Editor's Note: A fun bit of trivia is that Louisville native Alan Rhody wrote the first career-significant hits of both Ricky Van Shelton (Wild-Eyed Dream") and Lorrie Morgan (Trainwreck of Emotion.")