The Uglies
Paul Moffett
The first time I met Dan Kilian, he was scooting on his back across the floor of the Rudyard Kipling, screaming original rock ''n' roll into a microphone.
A capella.
A man who loves being on the stage, I thought that night.
That first impression proved true. Described as "maybe the best front man working in Louisville today" by a noted local music writer, Kilian is the singer for a full band, The Uglies, that has been two and a half years coming together. Kilian and the other members of the group talked between numbers at a recent rehearsal.
"You could say that it's been half a band most of the time," Dan said, referring to the sort of personnel shifts endemic to bands.
He explained that the band name was going to be The Ugly Truth, with lots of political implications. It devolved into the Uglies pretty quickly.
The group came together slowly. Kilian worked on his very theatrical rock 'n' roll stage act constantly during that period, getting with players here and there, looking for that spark, looking for simpatico. He found it in bassist Patrick Fitzgerald, then added guitarists Blaine Adams and Dustin Grove. Percussionist Kahlil Sabbagh was the last to join.
There's nothing particularly ugly about this band, except for "Dan's clothes, they're pretty bad," Adams said. Kilian was wearing a coat which might have hung for a time in a thrift store. Calling it scruffy would be kind.
His stage movements have the rather studied awkwardness that has roots at least as far back as Joe Cocker, by way of Pee Wee Herman, but are still current, kind of Nineties twitchy.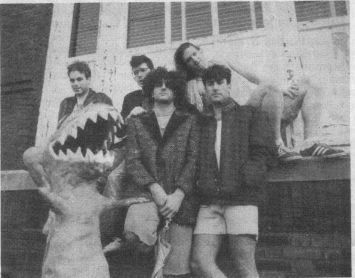 The Uglies
Even when rehearsing in the small room where Sabbagh lives, the band works on its unusual image with unusual routines.
Kahlil, as he prefers to be called, instituted the maneuver Kilian described as "post-practice bonding." The group gathers in a circle, arms around each other's shoulders. Everyone raises his left leg into the center of the circle. One member is picked out and he says the first thing that comes to mind.
"Pelican sifter wiffle," said Kahlil. He then counted off and, on three, the rest repeated his nonsense words solemnly, in unison.
Kahlil is the only member of the group with a degree in music, from the University of Louisville.
"A license to starve," he joked flatly. His room is filled with musical oddities, including a Polynesian percussion instrument called an oung loung, and a vibraphone, which he was happy to demonstrate.
"We haven't found anybody to play the vibraphone," Kilian said, "except Kahlil."
Fitzgerald is close to getting his degree in chemical engineering; Grove and Adams have degrees in engineering.
Adams laughed about his day gig, managing construction. "It means I get to play music when I want to," he said.
Kilian, who does restaurant work to earn eating money, has a B. A. in Theater from the University of Dayton. He grew up in Connecticut before finding his way to Louisville.
"I'm a Yankee," he confessed with a laugh.
The music the band plays is nearly all original, although they have worked up Michael Jackson's "Billie Jean." Part theatrics, part funk with a "bluesy punk sensibility," writing the songs has become a group activity.
"I write the words," Kilian said. The group works on the song together until it's complete. Bassist Patrick Fitzgerald is also a songwriter and has performed solo around town. He and Kilian often collaborate.
The songs have titles like "Dirty Dishes Part I," a song that grew from a Naked Entrepreneurs' tune. (The Naked Entrepreneurs are Dustin Grove and Kahlil.) Kilian added the lyrics.
Other group efforts include "Bad Attitude," "Sleepless," "Baby on Top," ("You'll love that one," Dan interjected.) "Mosquito," "Girl Next Door," "Second Opinion," and "Medusa." The material keeps a hard rock edge and the arrangements are solidly crafted.
I described Kilian as a "soul shouter."
"Yeah, sure, that's right," Kilian agreed. "If that's what you want, that's right. I'm a soul shouter."
The band also performs a two-act musical Kilian wrote called "The Origin of Spiderman." The play was performed at Tewligans and the Phoenix Hill Tavern in April.
Kilian took off on an extended explanation of the piece, involving paper mache masks and noxious chemicals. He waved his arms a lot and demonstrated the death and resurrection of Spiderman.
"You have to see it," he finished lamely.
The group got a spot on the "Rock the Ripple" showcase at the Vogue in Indianapolis in late May, but now they face the dreaded "summer drought," when jobs are scarce for bands, particularly bands that play mostly original material.
"We're working on getting more out-of-town gigs," explained Kilian. "You know, play different towns, only play Louisville once a month or so. People will only come out to see you so many times in a short period."