Dwight Yoakam & Suzy Bogguss at Louisville Gardens
By Jean Metcalfe
Pikeville, Ky., native Dwight Yoakam made Louisville an early stop — he thought it was the third one — on his This Time tour and family and fans alike eagerly awaited his appearance. Seats were superfluous on this May 18 evening at Louisville Gardens — except possibly to keep the fans spaced in rows — as the boisterous audience stood —but not still — for the entire concert.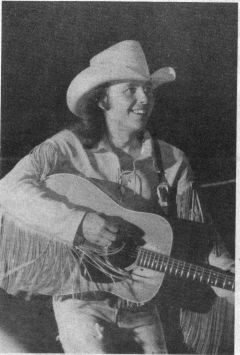 Dwight Yoakam. Photo by Letha Marshall
Dwight T-shirts outnumbered Garth garb and record-setting lines at concession stands and ladies' restrooms attested to the evening's success.
The audience's rowdy demand for an encore most certainly dispelled any fear the; slim singer may have had that his fans' ardor had cooled during his touring hiatus of more than three years.
From his introduction by WAMZ's flashy Coyote Calhoun until the that's-all-folks house lights came on, Yoakam kept the fans out of their chairs and in his grasp.
Cuts from. his This Time album were enhanced by three screens displaying artwork from the album and the large clock face depicted on the album cover served as a stage backdrop.
While songs from the new album were enthusiastically received, it was Yoakam's past hits such as "Guitars, Cadillacs," "Streets of Bakersfield" and "Honky Tonk Man" that brought the most frenzied response.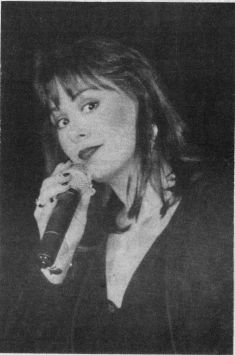 Suzy Bogguss. Photo by Letha Marshall
"I Sang Dixie," which he wrote shortly after moving to California some sixteen years earlier, was Yoakam's first encore number and it was very satisfying — but not quite enough. "Suspicious Minds" was even more satisfying — a wise choice — and although still wanting more, the appearance of the house lights sent the fans out into the night, many whooping loudly as they headed for their cars.
Dwight Yoakam had done the home folks proud.
Suzy Bogguss kicked off the evening's entertainment with a rousing rendition of her popular "Drive South" and kept up the quality entertainment with such enjoyable numbers as the wistful "Letting Go" and "Aces." Not to be outdone by Jerry Jeff Walker's version, the attractive brunette singer demonstrated her yodeling skills during "Night Rider's Lament." She shed her jacket and donned an apron for a clever bit of shtick with her sax player on "Eat at Joe's." Returning to the stage after a brief costume change — she added her attractive black hat — Bogguss closed her set with "Outbound Plane," leaving her fans shouting "Su-zeee, Su-zeee But there was no encore from the classy opening act.
"Suzeee Su-zeee!"