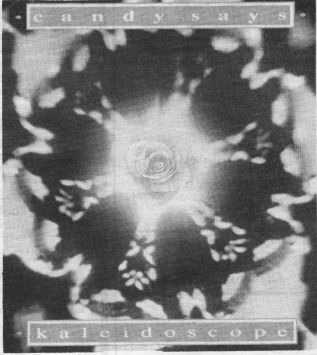 Kaleidoscope (Coda)
Candy Says
By Paul Moffett
Comparisons to other alternative groups abound about the Lexington, Ky-based pop rock poets Candy Says, ranging from 10,000 Maniacs to the Cure to the Sundays. Guitar-based rock trios featuring girl singers with feathery voices are hardly a new configuration and they usually serve to showcase either the female singer's vocals or the group's songwriting abilities or both.
Candy Says' second release, Kaleidoscope, bows to the form, with clean, precise arrangements that offer up Aleah X. Metzger's voice. Most of the time it works, though occasionally she seems to be a butterfly being chased by large felines, as the guitar-rooted melody lines edge toward snarling power-chords.
The rhythm section of Jay Baker on drums and Keith Coleman on bass is straight-ahead and generally right in the pocket. When that section is combined with R. R. Hornback's guitar, many of the tunes have a riff-driven pop groove. That sound goes a long way back past current alternative to a mid-Sixties feel, sometimes like Hendrix, sometimes even like early Fairport Convention but still Nineties smooth.
Ah, but to the point -- is there a radio tune on this project? Any hit songs?
"Upside Down" has a fine little guitar riff for an intro and the tune's musical structure fits solidly into the mold. Some of the most interesting lyrics on the album are found in this song.
"As She Fades" seems to the band's choice -- they throw in a little radio static and tuning at the beginning. Hornback's guitar part even feels like Fogerty in his Credence days.
The rest of the tunes are less individually memorable, although the overall sound and feel of the album has a certain stick-in-the-back-of-the-head quality. The lyrics are obscurely poetic but lack real punch. When there is a strong lyric, it doesn't match the music, so that there are no dynamite hooks.
Still, the project is a good effort by a band that clearly wants to be taken seriously (read major-label ready).
Kaleidoscope should earn them at least a look at their next project.