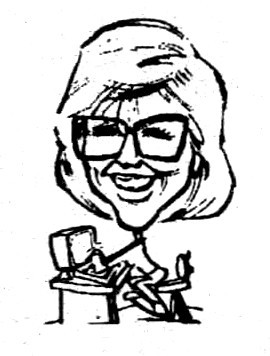 Newsical Notes
Our sympathies are extended to member Diana Black on the death of her mother on Feb. 5 in Corydon, Ind.
LASCers will recall that Diana handled the co-op's secretarial and membership matters, as well as doing an outstanding job of looking after our Hit Makers '90 and '91 events. We sure miss her and her work around here since she moved to Florida.
Diana's cartoon, "The Beet Goes On," which is a regular feature of Louisville Music News, has brought her a contract with American Songwriter magazine. Being possessed of a modest nature, Diana downplayed the significance of the contract, but did allow as how it would bring her more money than her songwriting has earned so far.
It was good to see you, Diana, although we regret the circumstances that brought you back to the area for a while. Our thoughts are with you.
Sympathies also go out to songwriting friend and former LASC member Dot Elpers whose mother passed away in late January. Dot co-founded the local workshop of the NSAI, and is the mother of another former LASCer, Pete Ramsey, who plays in the band Dr. Smith.
Dot moved to Michigan several months ago to work in the relocated business of one of her friends, but has since decided to return to Louisville. She plans a trip back up north to get things squared away, and we look forward to her taking up residence once again in the River City.
Are you still planning to sell your wonderful Louisville house, Dot? If you are, I know there are many potential buyers who would, if they knew about it, snap your house up in a trice.
Our thoughts are also with Ron Allgood, whose mother passed away on Feb. 8. We miss seeing Ron at meetings lately, and look forward to his return. Ron is a very good singer/songwriter and I always enjoy hearing his originals.
Karen Le Van turned a nifty fifty in February and she marked the occasion by throwing a party on the eve of Valentine's Day at Nashville's famous Tootsie's (where former LASCer Bev Sumner tends bar). Several current and former LASCers traveled down to Music City to help her celebrate, including Marie Augustine, Jerry Burns, Jackie Johnson, Tim Lynch, Alan Morris, Larry Standiford and Ray Yates. I'm sure I missed a couple, since I wasn't there. John Dowell, formerly of Radcliff, now living in Nashville, was there, as was former Board member Krit Stubblefield who moved back to his native Murray, Ky., after living for several years in Louisville. (Songwriters may recall that Krit and Randy Davidson had some success with their song "Game Without Rules" by the J.D. Black Band a few years ago.)
Although Karen had lined up some entertainment, she hadn't counted on one performer who showed up and graciously agreed to perform: Townes Van Zandt, that Texas two-steppin' maniac, who just happens to have written a song that got a little notice a few years back titled "Pancho and Lefty."
Townes had shown up, thanks to Bill Ede, at an LASC songwriter showcase a couple of years ago and covered several of his own originals. Ah yes, I remember it well. Seems I was emceeing that evening and it was my good fortune and honor to introduce Townes. Inasmuch as I had mentioned that he had written the Willie Nelson / Merle Haggard hit "Pancho and Lefty," he sang it for me that evening. He also sang "Marie" for Marie Augustine on that same showcase, and I understand he sang it at Karen's party as Marie sat in the front row.
Sorry I missed it.
Haven't heard yet where Prez Paul has hung the John Lennon Multiple Self-Portrait that he won at the recent Imagine Exhibition at the Seelbach Hotel. Keep us posted, Mr. President. (No pun intended.)
(Please send us your "Newsical Notes" so that we can let our readers know what you're up to. A brief note would be more effective than just telling us about it. How about some news from our silent majority?)