I've Got A Mind To Ramble
It has been quite a while since I've been to Uncle Pleasant's at 2126 South Preston, mainly because there hasn't been much blues at the club. The owner, Mark Smalley, called me recently to see if there would be a possibility of booking blues acts again on a monthly basis. His suggestion brought back all those memories of some of the great bands that played there a few years ago like Eddie Kirkland, Phillip Walker (what a class act), Jimmy Dawkins, Eddie Shaw and the Wolf Gang, William Clark (unforgettable harp) and the Legendary Blues Band (when they still had some bona fide legends). The attendance at these events was both a hit and a miss. Like the night Eddie Kirkland played at Uncle P's, Homesick James was performing across town at the Cherokee Blues Club (bad timing).
Mark had a line on a booking agent in Chicago and was ready to start it all over again with the Chicago Rhythm and Blues Kings on Saturday, February 6.
The band is essentially the Mellow Fellows that backed up Larry "Big Twist" Nolan before he passed away in 1990. Martin Albritton, who was like a little brother to Big Twist, has taken over the singing duties. His style and gestures are more expressive with a greater vocal range that occasionally includes yodels. I was amazed at what a big band sound came out of these five musicians. The chorus included Terry Ogolini on sax and Don Tenuto on trumpet. They were as tight as could be, often blending to sound like one instrument.
Their frequent solos really added a punch to the band's arrangements. Kax Ratliff, the drummer and Bob Halaj on bass kept the tempo going from the hard-driving blues like "Look on Yonder Wall" sung by Kax to the slow emotional ballad like "Rainy Night in Georgia." A pleasant surprise was hearing and meeting Dave Mick who has taken over Pete Special's role as lead guitarist. His guitar licks are equally comfortable with the band's jazzy swing, funky Memphis soul and raw Chicago blues. Dave's two guitars are unique for they were made especially for him by his brother.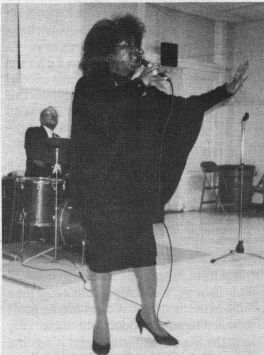 Mary Ann Fisher and drummer 'Kid' Pete. Photo by Keith Clements
The Chicago Rhythm and Blues Kings are not a pure blues band but a bunch of talented veterans who mix their blues with lots of soul and R&B. The band has been recently going back and resurrecting many of the classic R&B tunes and recreating them for a new audience with the help of the great R&B arranger Gene Barge. They did two of Bobby Bland's gems, "Ain't That Lovin' You Baby" and "Futher On Up the Road," and for a moment I thought Martin had transformed into Mr. Bland. The group has been talking with Bruce Iglauer about getting back in the studio to do a release on Alligator under their new name.
People gradually drifted into Uncle Pleasant's and by the second of their three sets, the place was comfortably filled with an appreciative audience.
The next blues act to perform at Uncle P's is Eddie Show who has a recent release out on Rooster called "In the Land of the Crossroads."
With the proliferation of so many young blues bands issuing records around the country, it is refreshing to come across a new record label called Fat Possum that is specializing in recording the sounds of the genuine Mississippi bluesmen who still play the juke joints. There is still viable music being played where it all began and unfortunately it has been overlooked by this current blues revival.
R.L. Burnside and The Sound Machine's Bad Luck City features the 66-year-old guitarist whose mentor was Fred McDowell. R.L. lives in Holly Springs, Miss., with four generations of Burnsides in a four-bedroom wooden house. Two of his twelve children play with him: Dwayne on second guitar, Joseph on bass and his son-in-law Calvin Jackson on drums. The recording was done at Syd's, a juke joint near Oxford, Miss. A sad note on the liner notes states that the Burnside family home burned to the ground the day they recorded this album and now they are squeezed into a trailer east of Holly Springs.
R.L.'s deep, resonate voice cries full of hurt and pain countered by the throbbing rhythms of his band. He covers several songs of other urban-via-Mississippi bluesmen like Howling Wolf and John Lee Hooker which shows the influence that he absorbed while he lived in Chicago during the '50s.
The other Fat Possum release is Junior Kimbrough and The Soul Blues Boys All Night Long. Junior is assisted by his son Kenny Malone on drums and R.L.'s son Gary Burnside on bass. Junior has his own juke joint which was a former sanctified church west of Holly Springs. He recorded in the old church and you can feel the hypnotic, haunting force of his mournful music ricocheting around the vaulted ceiling. A storm suddenly came up and the building was struck by lightning during the session, inspiring Junior to create a song on the spot, "Slow Light;nin'." Junior's music is more primitive, a lot like Jesse Mae Hemphill and less influenced by the sounds of the urban blues like Burnside's music. It is pure unadulterated back-to-the-basics Mississippi blues.
Thanks to a grant from the Fund for the Arts, the KYANA Blues Society is able to sponsor several educational performances of the blues in the Free Public Library and the public schools. Mary Ann Fisher put on the first show at the library's Western Branch on February 9.
Back in 1955, Mary Ann was performing at Fort Knox. Ray Charles heard her sing and wanted to add a female vocalist to his act. Mary Ann is part of the vocal trio on "This Little Girl of Mine," and that same year Ray recorded "Mary Ann" about you-know-who. She performed with Ray for three years and left shortly after the Raelettes were formed.
Mary Ann's free performance to a group of fifty admirers, mostly from the Russell area, was a special moment. During her show, she said she would be celebrating her 70th birthday and 50 years in show business that coming weekend with parties at Shirley Mae's Cafe and Sil's. You would never guess her age. She was backed by a couple of veteran Louisville musicians. Boogie Morton laid down some jazzy chords on his keyboard and "Kid" Pete used a variety of percussion instruments on his drums, including brushes (a lost art). Pen Bogert sat in with his Gibson guitar.
It was a little hard to set a bluesy mood downstairs at the library with baby-blue-colored walls and bright fluorescent lighting, but Mary Ann quickly cast her spell with "What a Difference a Day Makes." Her expressive voice captured the feel of Sarah Vaughan, Dinah Washington, Billie Holiday and Ruth Brown. She got into a nice blues groove with "Your Husband's Been Cheatin' On Us" and "You'd Be a Millionaire." Her vocals became both emotional and tender on "Cottage for Sale" and "Since I Fell for You" (with prologue). She closed her set with a tribute to Ray Charles by singing "I've Got a Lover (Woman)." It was a special moment for all of us and Pen deserves special credit for putting the show together and setting up a nice display of some unpublished photographs of Sarah Martin, the Louisville classic blues singer.
Mary Ann said after the show that she is writing a book of her show business experiences and her time with Ray. She's on Chapter 12. With her great disposition, she will never grow old.
The next blues performance will be Sunday, February 28, downstairs in the staff lounge of the main branch of the Free Public Library from 2 to 3 p.m., featuring Jim Rosen on harmonica and John Burgard playing guitar.