Songwriter of the Month
By Michael Layman
Very few people have meant as much and have worked as hard for the LASC than the songwriter we recognize this month, Charlie Walls.
Charlie has served on the LASC Board of Trustees for four years. He is a terrific songwriter and has won a number of contests. The "Music Man" has been responsible for contacting and arranging for all those A&R folks, publishers, acclaimed writers, and record producers to come to our November seminar.
Perhaps the most impressive writing "kudo" came from a contest that he didn't win. Rather, he placed fourth in the KFC contest a couple of years back. Fourth out of 45,000!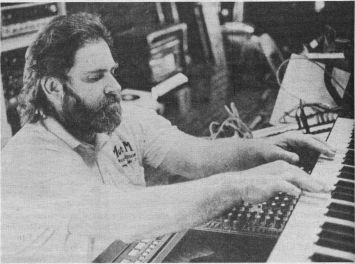 Charlie Walls in his studi in Springfield. Photo courtesy of Kentucky Living Magazine
After playing in a rock band in high school, Charlie got married and left music for nearly 15 years. In 1982 he started playing country music and got involved with the Nashville Songwriters Association International.
In 1984 he discovered MIDI before many songwriters in the area had ever heard of MIDI. It got to the point where the manufacturers were calling Charlie if they had a problem.
He then built his own MIDI-equipped studio. The studio is set up for singers and writers to experiment with their songs. Because of his MIDI equipment, Charlie can provide all the music.
He and "cuz" Sammy Reid co-own the publishing firm of Walls & Reid Music, and they often receive calls from Nashville folks wanting new material. Charlie invites everyone to submit tunes to him, and he promises he will "give it an ear."
He also has his own record label, Music Man Records, and gets a number of recordings out each year.
In 1992 he produced and wrote five of the six songs on the J. D. Black band's new EP. He and Sam, Gardner Barger, Jean Metcalfe, and Paul Moffett teamed up to write all the tunes on the John Allen cassette.
In addition to the local groups, Charlie produced the The Bombino Years, an officially licensed tape about Rick Pitino's Kentucky Wildcats. "The Proof's Here In My Hands," a song written by Walls and Reid is one of the tunes in John Mellencamp's movie "Falling From Grace."
His most recent project involved writing the closing song for the third longest-running TV show in the history of television, "Kentucky Afield," an outdoor sporting show that airs on Kentucky Educational Television. This year Charlie has taken on three new projects, all with local writers and singers. Karen Kraft, Drivin' Wheel and Tim Lynch, who is also a Co-op board member, are all scheduled to release projects later this year. Charlie hopes to put together a novelty cassette with Tim and country cassettes for the other two.
Charlie still finds some time to play out now and then. Like so many folks who make their living at music, Charlie's very grateful for the support from his wife Sandy. No one works harder at his craft, no one I know deserves the recognition more, and no one I know deserves a big-time hit more than Charlie Walls. The LASC is proud to have Charlie as a member.