The Toy Shop On the Road
By Jean Metcalfe
On February 11 Kentucky Opera's educational program, "Opera-Go-Round," began its 1993 season with a public preview of "The Toy Shop" at the Kentucky School for the Blind. Immediately following the preview, the 40-minute opera began a sold-out spring tour which will play to well over 13,000 students in its six-week run.
Luhr Elementary School in Highview was one of the early stops on the tour and the February 15 performance was an excellent Valentine gift for the youthful audience.
They listened carefully to an introduction to opera, readily accepting the idea of a story told in song. And this was at 10 on a Monday morning.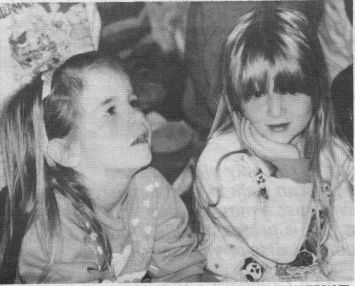 Elizabeth Parker, left, is captivated by the Toy Maker while Krystllien Williamson is momentarily distracted. Photo by Jean Metcalfe
The excellent troupe captivated their audience from beginning to end, returning to sit on the edge of the stage — sans wigs and bear's head — to answer questions from inquiring young minds.
The smoothly run presentation of "The Toy Shop" was more fun than a trip to the Toys R Us shop. And the children loved it, too. But let's hear it from the pencils of "The Bear Bunch" team of primary students at Luhr:
Someday when I grow up might be in the Opera show. Good going. From Larry the Toy Maker.
My favorite character was the bear.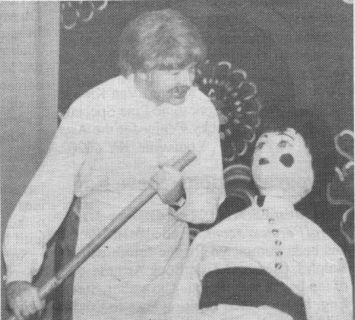 The Toy Maker a.k.a. John Mark Swink talks to his 'son,' Paul. Phot by Jean Metcalfe
Samuel.
You have a very good and pretty voice Pauline. . . you were my favorite character.
Kassie Stovall.
We got to see an Opera at our school.. .
I bet they had to practice a lot and be a good singer, too. The scenery and costurnes were very good. I liked it a lot. Sarah.
It was funny when Paul was beating up Blunder. The toy maker was very sad when Blunder got Paul and Pauline. Pauline learned a lesson. I liked it when the bear ran after Blunder. Brannon Lee.
My favorite part was when Blunder made the key disappear and a few minutes later the bear held up the key. Justin.
I think becoming an opera singer takes a lot of work like staying on key and remembering your lines. Scenery and costurnes are hard work, too. Nikia Yancey.
Dear Toymaker, I loved your show. It was marvelous. Brandon A.
The singers in the opera had to practice hard. They had to have good memories to remember their parts. Also, they had to be excellent singers. They sung their parts in the opera. But there' s something we have to do, too. We have to be good listeners. Sean.
I love the show a lot because it wasn't just talking all the time. I hope the people come back because I loved the show.
Charese Taylor.
I like the opera in many ways. The props are very creative. The singers are also very good actors and actresses. Their singing is very beautiful and really good. I hope I get to see the Kentucky Opera again. Patrick Cady.
The reason I liked the opera is because it was interesting and cultural. It didn't have much meaning, but it was funny. It' s really serious at times, but sometimes it gets out of hand. The villain was so funny that I laughed twice as hard. Michael Johnson.
After an opera, I am always impressed, because they can hit notes so high. Ashley Baker.
I like operas. They are a different way of telling stories. I didn't think the opera was going to be good, but it was. To some people operas are boring. I think they are neat. Christina Patterson.
And there you have it, a review by the experts.
Our special thanks to the talented KO troupe, "The Bear Bunch" and Kyle Dreher, Cultural Arts Chairperson for Luhr Elementary School, as well as all the other nice Luhr personnel who contributed to the success of this enjoyable "field trip."