HANKY PANKY PARLEZ-VOUS???
Saturday the 13th draws two Chicago groups to Louisville, albeit at competing venues. Pravda recording artist New Duncan Imperials crown Uncle Pleasant's. The New Dunks are the definitive marketing kings of the grunge-trash touring rock-band world. There exist NDI baseball-type trading cards, party kits, calendars (complete w/photo of their zebra-striped van driving through a chandelier tree in California) and most recently a four-color action comic book devised by one of their fans. While this does not exactly describe their music, it does give one an idea of some of the zaniness to expect at one of their shows. NDI has even been known to take the audience over to White Castle between sets.
ELEVENTH DREAM DAYING. . .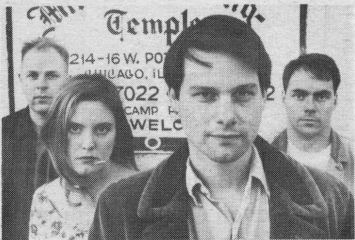 Eleventh Dream Day
Eleventh Dream Day returns to Louisville for the first time in too many moons at Tewligans on Saturday, March 13. Singer/ guitarist Rick Rizzo and drummer/vocalist Janet Bean are former Louisvillians (Bean's father used to run the Zoo) who have resided in Chicago with the rest of the band for years. Another Louisvillian, Wink O'Bannon, formerly extra-guitarist extraordinaire with Bodeco, has recently been made a permanent addition to the lineup. EDD was one of the first shows I booked in this town when I was 20 years old (and the owners of Tewligans thought otherwise) and the band has remained one of my favorites of all time. Back then, EDD was on a West Coast indie label called Amoeba (for whom they produced three releases). Now, their third project for Atlantic is in the works. Many people have likened their sound to "electric Neil Young," but Rizzo's acute songwriting and at times wrenching vocals harmonized with Bean's ethereal voice create modern music with a sound distinctly theirs.
BODACIOUSLY,
As earlier stated, Bodeco bids farewell to guitarist Wink O'Bannon and welcomes aboard Bill Barney. Things have been moooving might fast for the band since their Homestead release entitled Bone, Hair and Hide; they're considering offers of touring with the likes of the Fleshtones and Reverend Horton Heat and are also releasing a 7" single featuring live recordings from shows at Tewligans ("Suicide Ride" b/w "This Train"). There are two chances to check out the new edition of Bodeco this month: On Tuesday the 2nd they will perform a no-cover show at Butchertown Pub and on Friday the 19th they will be ripping it up (and down) at Tewligans.
IT'S HAMMERHEAD TIME!!!
On Saturday, March 20, Hammerhead from Wisconsin makes its Derbytown debut. Hammerhead is not to be confused with the now-defunct The Hammerheads, or with Hammerbox or Flinghammer or even just Hammer. The real Hammerhead is signed to Amphetamine-Reptile records (Amrep for short) out of Minneapolis, a label known for bringing us hard-edged, real alternative wonder bands like Helios Creed, Tar and The Cows. Hammerhead is nothing short of full-blown tantrum set to melodic noise-music, intense and delightful. This show is open to all ages at The Machine (in the old Sears building) which is the newest resurrection of "that photon place" (a.k.a. CD Graffiti's, Kixx, The Enterprise, Laser Chase). What makes this establishment special is that it was created by the all-ages scene for the all-ages scene. Bands have been pitching in by painting and hammering and the club is returning the favor by sponsoring their album-release parties. Let' s support them and wish them good luck.
FREE CRUNCHES~
With all these wonderful shows taking place this month in Louisville, music lovers' pockets are bound to be feeling rather empty after the weekend. Fortunately, every Tuesday at Butchertown Pub still requires no cover charge. This month's menu includes: Bodeco (3/2), Joe's Report (3/9) and Cherub Scourge w/Enormous Richard (3/16). Enormous Richard returns from St. Louis with a brand spanking new CD, whose distributor also handles Kinky Friedman and Charles Manson acoustic releases. Weird. Hula Hoop plays host for guests from Boston Letters to Cleo (3/23), who are on their way down to Texas to perform at South by Southwest.
March ends with a gas in Butchertown with Crab Nebula and guest Nitrous (3/30).