Waylon Jennings at Jim Porter's
By Jean Metcalfe
The backstage area of the ballroom at Jim Porter's was surprisingly calm between shows on February 3. Waylon Jennings was on his bus and this writer had been made to feel welcome by the friendly, cooperative road crew of the man who in the mid-'70s established himself as a leader of the "outlaw" movement in country music.
The sounds of the Other Smothers Brothers drifted backstage as I met and briefly interviewed the kind, laid-back gentleman his road crew had promised. I asked Waylon about a new group that he was reported to have organized after learning of a problem encountered by country singer Ricky Van Shelton.
"We're going to start an artists' association," Waylon explained. "What it is for is the protection of the artist, because it's gotten out of hand. They've never really shown any respect for the artist in Nashville.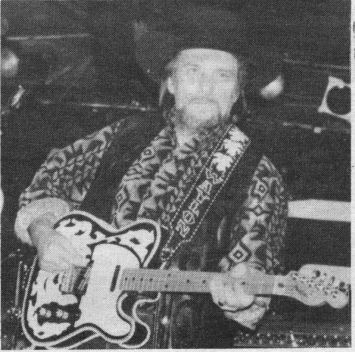 Waylon Jennings. Photo by Jean Metcalfe
The CMA is using the artists to make money for them, you know. And they never give any back. They never give anything back in promotion or anything like that.
"With the record companies, the artists have to fight and sue them to get their money. And they don't have to do that if they all organize. And they know that we're not going to record or we're not going to participate in things until it's on a level playing ground. The same way with all the things around there.
"It's not that we're going to build this organization and fight the world but I think that starting it will level things out," he summed up.
"What kind of interest have you had from other..."
His ready answer stopped my question short: "Everybody wants to do it. We've got a couple or three that are pretty well stuck with the CMA and they're afraid they're not going to get their awards, so they're not going to do it."
"You don't care about awards, do you?" I half said, half asked.
"Nawww," he drawled, "I never have."
"You care about your fans," I suggested.
"That's it, you know."
"How's your album doing?" I wondered, referring to Too Dumb for New York City, Too Ugly for L.A.
"Not any good."
"Not any good?" I echoed. His refreshing candor had caught me off guard.
"Naww."
"That's too bad," I sympathized.
That's all right though," he assured me.
"Maybe that's a good sign," I said, alluding to his non-conformist image.
"That is a good sign," he replied with a chuckle.
I asked if Waylon had anything else to say to our readers: "Oh, I love Kentucky."
With a backdrop bearing his eagle-winged "W" and a wooden Indian decorating the stage, Waylon pleased his comfortable-capacity audience by offering up such tried and true numbers as "America" and "Mammas Don't Let Your Babies Grow Up to be Cowboys."
Giving them just enough of another No. 1 hit to make them salivate, Waylon stopped and teased his audience: "I'm gonna tell you all something. I hate this (expletive deleted) song. I've done it one million, 253 thousand [I missed the rest of the figure] ... but just to show you what a wonderful person and good ole boy ... I may never do it again." Cheering and whistling erupted as he lit into "Luckenbach, Texas."
I especially appreciated Waylon's performance of the Willie Nelson song "It's Not Supposed to Be That Way," a song that I've enjoyed over and over on my cherished copy of Willie's "Who'll Buy My Memories" a.k.a. as the IRS tapes.
A one-song encore — "I've Always Been Crazy (It Keeps Me From Going Insane)"-— brought an attractive woman onstage to help with the vocals. Had the cheering not been so loud and had I not been positioned so that my view of her face was obstructed by her hat, perhaps I would have recognized her as Waylon's wife, Jessi Colter. Several days later I heard that it was indeed Ms. Colter, a talented performer probably best known for her cross-over hit "I'm Not Lisa."
It had been an enjoyable evening. Perhaps one of Waylon Jennings' Top 10 hits best describes the man: "I May Be Used (But Baby I Ain't Used Up."