Second Thoughts
A Different Kind of Opera: The Turn of the Screw
Benjamin Britten is a composer of our times and responsible for 15 operas, the most of any English-speaking composer anytime. Recently, Kentucky Opera and Thomson Smillie put on an unforgettable production of his "The Turn of the Screw."
It was unforgettable in more ways than one. Its music is distinctively modern, perhaps ultra-modern. It featured 11-year-old Jonathan Barrett Sawyer in a leading role and the young man handled a demanding part with poise and talent. Louisville Music News asked him what was the hardest aspect of his assignment. "When I die," he calmly replied with all the calmness of a seasoned veteran.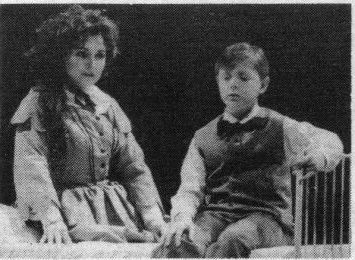 Marilyn Taylor, right, and Jonathan Barrett Sawyer. Photo by Patrick Pfister
The opera is based on a story by an American, Henry James, who felt the fascination of the esoteric and the confrontation between the vulnerability of youthful innocence and subtle treachery of evil. The music Britten wrote for this drama is eerie, suggesting we are now in the presence of a powerful force, not often met in everyday life. Young Sawyer and Robin Massie play a brother and sister suddenly placed in the hands of a governess by an unseen uncle. Marilyn Taylor plays the governess with great insight and;. she acts as well as she sings and I would agree with [Courier-Journal critic] Bill Mootz that this was her most challenging role on a local stage. She is a real comer.
It seems unfair to single out any of those responsible for the lighting, sets and staging. Director John Hoomes coordinated their efforts so that the production moved along intelligently and briskly. Stewart Robertson conducted the 14-piece orchestra with confidence and the knowledge of what Britten was doing; at one point he told us that he considers the British composer to be the peer of Mozart and Beethoven. That view would not have occurred to this observer, mainly because Britten writes in a different musical idiom. Moreover, it would be hard to imagine that what Bill Mootz calls "Henry James' ghost story" would be as effectively told in a more conventional musical style.
I am not sure the Macauley was the best theater for this production; its balcony is ill-equipped for senior citizens. The vocal sounds may have been well suited for such an eerie tale but it was hard to recognize the words that were being said. The program did summarize actions in the various scenes but was less successful in helping us learn more what James and Britten were trying to say. I realize there is an introductory talk before curtain, but on a week night not everyone can get there in time to hear it.