Bluegrass Beat
More about thea Otter Creek Park Festival, just in case you didn't save last month's issue of Louisville Music News:
We saw the area at the park when it was still in the starting-work stage and, from all appearances at that time, they are putting together an ideal setting for a bluegrass festival: a new, covered, 40' x 50' stage, an excellent area for audience, shade, a little sun for those who like that and an access road to the rear of the stage for band buses, vans, etc. There is vendor space around the perimeter and an area for the bands to set up tape/CD tables. It is really looking good, folks. Something for all. Outside the concert area, arts and crafts display and some varied activities for the kids.
One more reminder of the groups coming: Ralph Stanley, Dry Branch fire Squad, Lynn Morris Band, Josh Williams, New Horizon and Kentucky Blue. Parking-lot picking, camping area, all those good things that make a festival. And the most important one of all, you the fans. Be there. This is the best bargain in bluegrass festivals you will find around: $5 for Saturday, $8 for Sunday, a two-day ticket for $10 and groups of 20 or more can get two-day tickets for $8; kids under 12 FREE. What more could you ask. Remember, the better it comes off this first year, the bigger and better it will be next year. Here are the makings of a great bluegrass festival close to home.
Want tickets or information? Call Gary Loeser, Otter Creek Park (from Louisville, S02-583-3577; from the Fort Knox area, 502-942-3641) and get those lawn chairs dusted off and ready to go. It's Bluegrass Festival season, folks!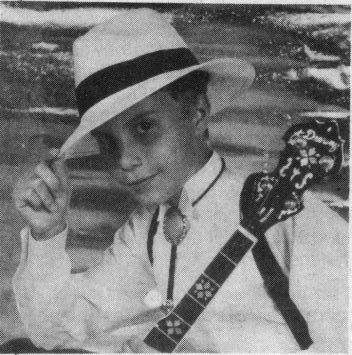 Josh Williams
In case you haven't heard, there is a three-hour bluegrass show on WSM each Monday night at 7 p.m. our time. I haven't heard it yet so I can't tell you too much about it.
Maybe we will all get a chance to listen and compare notes' "ext. time.
There has been a lot of top-notch talent at Shepherdsville Country Music Place this last month which all too many of you missed. The Boys From Indiana, Doyle Lawson, and the big one with Ralph Stanley, Goins Bros., Larry Sparks and the Timmy Cline Band.
May 7 will bring in the Reynolds Family from Hodgenville; the 14th, Joe Benningfield and the Blue River Boys; the 21st, the Fret Benders; and the 28th, Danny Crawford and the Shilo Mountain Boys.
The Boys From Indiana were at Shepherdsville to start off the April bluegrass shows. This group is a number-one band. When I am asked, I call them the best show band on the road. They have got their show together in every respect. I sat and listened, paid attention in a different way than usual this time and realized some of the things that had always been there but that I had not specifically picked out before. They are relaxed, yet their timing is flawless. A gospel number starts off with the guitar and lead singer and then, at the exact moment, note and cue, they are all there in absolute precision. Much of their material is original, in their own style, yet gives the feeling of traditional old-time without being outdated. It is material and presentation that the listener is comfortable with.
The group is losing its banjo man, Jeff Murray, the first of May. Jeff claw hammers the most intense, driving version of "Rocky Island" I have heard. He also takes a little break during a couple of the gospel numbers where he lays the banjo aside, sits at a piano, when one is available and knocks 'em out with some hot piano. He did this at Shepherdsville the last two times, much to the surprise and delight of the audience. The only thing I think would have been better, would be to use the old upright rather than the "elec" keyboard. At any rate, best of luck to you, Jeff, on your next venture. I'm sure the Boys and their fans and yours, will miss you. Folks, see this group at any and every opportunity.
Doyle Lawson followed the Boys on the 11th and brought in quite a following. Doyle is very popular in this area and with our listeners (Sunday Bluegrass, WFPL 89.3 FM, 8:30-11 p.m.. every Sunday night). Making his debut appearance with Doyle was John Berry from Flaherty, Ky. John had a lot of friends there also. He makes a good twofer for the group — a good bass player and a waaaay-down-deep bass singer.
A new bit relative to the Otter Creek Park festival: Josh Williams, Benton, Ky., is going to be the subject of a Nick News item. Nick News as in Nickelodeon TV. It seems that Luck Duck Productions has contacted Josh and will be going to Benton to film Josh in rehearsal and doing the things he does to get ready for the festival. They will then film his performance during the festival. How 'bout them onions and youngsters? You know, young people in bluegrass? Josh will also perform sometime Saturday night in the campground. Speaking of which, I understand there have already been inquiries about the facilities from as many as six states and it is still early yet. Folks, this is going to be a dandy.
At the time of this writing we are still looking ahead to the "big blow-out" show with Ralph Stanley, Larry Sparks,The Goins Bros. and the Timmy Cline Band at Shepherdsville (April 23). I'm sure the old-time show will have been something to see. Will tell you more about it next time.
Our thanks to the bands who were there for the fund drive at WFPL: Riverboat Ramblers, Schmitt Family, Kentuckiana Bluegrass, Tommy Brown and County Line Bluegrass. A real appreciation to you for your time, talents and friendship. Kentucky Blue couldn't be there due to the illness of Scott Nation. Scott, we hope you're all better by now.
Birthday wishes to Wade Mainer this last month; 86 and going strong. Bless you for many more, good friend.
One little tag-off note to this column: By the time you read this, I will be RETIRED! Been a long time coming and I am going to enjoy it.
(Congratulations to you Berk, our intrepid bluegrass columnist and friend. Now you can spend more time listening, meeting, greeting and eating at all those bluegrass festivals you love so much. We don't, however, expect you to retire from this column. Not for a lonnnnnnng time!)
Recordinq Review
I Believe in the Old Time Way (Rebel)
The Traditional Grass
By Berk Bryant
From Rebel Records, Roanoke, Va., comes a new CD by The Traditional Grass (TG). A gospel CD titled "I Believe in the Old Time Way." A good title and a good song. As fans of TG know, they turn out some of the best of traditional bluegrass.
A lot of gospel is being done and recorded. A good moving gospel number, by most any group, will instantly bring a crowd to life, usually just a note or two short of bringing them to their feet and get as big a response as anything done on a show. Local fiddler player Art Stamper, quoting somebody one night, remarked, "If you want a hit, just record a gospel album." If that is the case, with all of the above combined, this should be a hit with bluegrass fans.
In addition to the title song, this CD contains "I'll Not Be a Stranger," "A Gospel Light," "The Messenger Bell," "Life Beyond Death," "Take Up Thy Cross," God I'm Ready to Go," "Family Altar," "You'll Be Rewarded Over There," "My Loved Ones Are Waiting for Me," "The Music of My Memories," "Give Me Your Hand," "The Eastern Gate," and "Elijah." Some are slower, some are faster and some are movers. Any bluegrass gospel fan will have it all together in this recording. It is one of those you will put on often to let play. I'll be playing it on Sunday Bluegrass.
The Traditional Grass, I Believe in the Old Time Way, REB-CD-1708, Rebel Records, P.O. Box 3057, Roanoke, VA 24015. ,