I've Got A Mind To Ramble
Another well-kept blues secret slipped in and out of town, barely noticed, on March 26. On Friday's Weekend section of The Courier-Journal, Maurice John Vaughn was mentioned in fine print to perform that night at Uncle Pleasant's. That was the extent of the promotion for an Alligator recording artist who was one of the headliners at the 1991 Garvin Gate Blues Festival.
There were two dozen people at Uncle P's and if there hadn't been a table full of second liners and relatives of the band near the stage, it really would have been a sparse crowd. Maurice brought his road band, which included the veteran Alan Batts on keyboards, Kenny Pickens on bass, B.J. Emory (who gives the little band a big-band sound) on trombone and our local percussionist Mike McGee on drums.
Before I get into Maurice's show, there is an interesting story about how Mike McGee came to Louisville. Several years ago when the Louisville Jazz Society was promoting Jazz at the Water Tower, A.C. Reed and the Sparkplugs performed with his amplified honking sax and infectious smile. Mike was drumming with the band at the time. After their show, the night was still young for bluesmen and they were looking for a place to sit and jam. We couldn't work anything out at the Pleasure Inn, so we took them to the 26th Street Tavern at 26th Street and Garland Ave. The house band with Fred Murphy had the crowd in the smoky back room in a mellow mood. When this hotshot Chicago band arrived things really started cooking for a full set of power blues which included A.C.'s standard "I'm in the Wrong Business." There was a young lady in the crowd who Mike met and who changed his destiny, for he decided to settle in Louisville after that.
Now back to the show. Maurice's guitar style is not distinctive, it is just an excellent solid Chicago sound that shows his many influences. He mixed blues standards like "Stormy Monday," "The Thrill Is Gone" and one of the national anthems of the blues, "Down Home Blues," with some of his original songs like "Garbage Man Blues," plus a nice, slow blues called "Big Bad Circle" by B.J. Emory. I enjoyed his laid-back manner which he used to establish a nice rapport with his fans. This event was like a record release party because his latest recording on Alligator, In the shadow of the City, had just come out. Generic Blues is his only previous release which was originally issued on the Reecy label. Because it was such a good recording, Alligator reissued it in 1988. Digging into my record collection, I found another gem that included Maurice and A.C. Reed on back-to-back sides called "I Got Money," on the French Blue Phoenix label.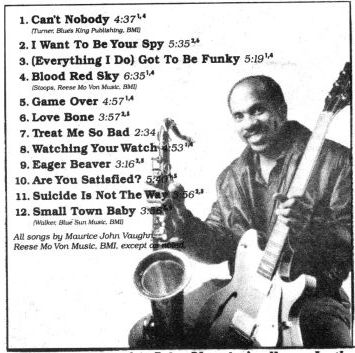 Photo from Maurice John Vaughn's album, In the Shadow of the City
When Maurice performed at Garvin Gate his good friend Professor Eddie Lusk was featured with him. This past year Eddie Lusk tragically took his life when he learned he had AIDS. Maurice wrote a song, "Suicide Is Not the Way," several years ago and it is included on his latest release as a poignant tribute to Eddie. Next time Maurice and his band does a gig in Louisville, he deserves more recognition.
The lineup for the 10th Chicago Blues Festival just arrived by mail yesterday and it's going to be a good one. Since the festival is scheduled for May 28, 29 and30, about the time of the June issue of Louisville Music News, I will give you the highlights now:
FRIDAY, MAY 28: "The eagle flies."
Front Porch Stage: Yank Rachell, Jimmy Walker & Homesick James (these musicians are all in their late 80s and still going strong); JuniorWells & Robertlr. Lockwood.
Crossroads Stage: "Delta fish Market Band" (those of us who took the Westside bus tour last year will remember many of these musicians); Zora Young; Mighty Joe Young's Blues Band.
Petrillo Band Shell: Tribute will be paid to 40 years of Delmark Records with Willie Kent, Jimmy Dawkins, Big Time Sarah, Jimmy Johnson, plus some of the afternoon performers that include Yank Rachell, Robert Jr. Lockwood, Mighty Joe Young and The Junior Wells Blues Band.
SATURDAY, MAY 29: "I go out and play."
Front Porch Stage: Detroit Jr.; David "Honeyboy" Edwards; Chubby Carrier & The Bayou Swamp Band.
Crossroads Stage: West Coast Harp Jam with William Clark, Curtis Salgado and Mark Hummel; Eddie Shew and The Wolfgang.
Petrillo Band Shell: Jimmy Walker will have his 88th birthday celebration with Billy Boy Arnold and Billy Branch; Jimmy McGriff & Hank Crawford; Katie Webster with Lonnie Brooks; Johnny Copeland.
SUNDAY, MAY 30: "I kneel down and pray."
Front Porch Stage: Pinetop Perkins celebrates his 80th birthday; Salute to Blind John Davis and Big Bill Broonzy.
Crossroads Stage: Big Bad Smitty; John Cephas & Phil Wiggins; Guitar Shorty with Casey Jones.
Petrillo Band Shell: Celebration of the Centennial of Big Bill Broonzy featuring Sunnyland Slim, Brother John Sellars and Pop Staples; Little Johnny Taylor; Elvin Bishop with Little Smokey Smothers; The Staple Singers.
Remember, these are only the highlights. There will be some tough choices to make for which afternoon shows to see.
Susan O'Neil, who was the featured vocalist and co-founder of da Mudcats, provided a little background regarding her role on how the band was established. In my previous column I had mentioned that Jim Rosen established da Mudcats in 1987. This was after Sue had persuaded Jim to do a recording session with her at Artist Recording Services. The other musicians included John Kennedy, Rick O'Neil and Paul Hearney. Whatever happened to those tapes? The band developed and expanded their repertoire and were ready for their first gig at a tailgate party at the Fairgrounds.
The band then consisted of Andy Brauner (guitar), B.G. Johnson (bass), Jim Rosen (harp), Gene Wickliffe (drums) and Sue doing the vocals. When the band recorded "Two Man Blues" on the Scott Mullins-produced Louisville Blues Compilation album, Rob Pickett had become the lead guitarist and Larry Holt was playing bass. This is the same group that is on their own cassette da Mudcats Blues Band. During this time Susan took care of the bookings and public relations and, as she explained, "was the viable force that held the band together during these early years."
It is official, the KYANA Blues Society will be holding its first Annual Amateur Blues Contest at the Bluebird Cafe on Saturday, May 22. We have received five entries to date and they include a nice selection of local and regional talent. Since the number of entries is smaller than we anticipated, the preliminary round will start at 7:00 p.m. More information will be available through the KYANA newsletter "Blues News."