Cowboy Chris at Coyote's
By Jan Winders
Chris LeDoux is a man who makes a living at his hobby. He is an authentic cowboy who wants to make a difference.
LeDoux has been riding broncs since he was 12 years old. He went on to take the Wyoming High School Championship and the Intercollegiate Championship, claim in g the World Championship in 1976. Rodeo scholarships paid his way through college.
The songs he sings and writes are drawn from LeDoux's days as a cowboy on the rodeo circuit. Deciding to market his songs, LeDoux's" family opened up their own family recording studio and "did it all." In one day, Chris' mother turned out 18 tapes of his original material.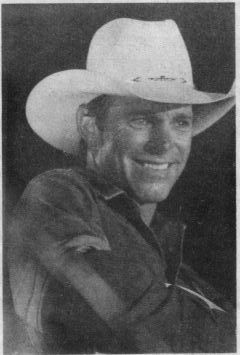 Chris LeDoux. Photo by Letha Marshall
"I owe them a tremendous debt," Chris said. "I thought all families were like that until I traveled around and found out that a lot of people don't get the support I got."
Speaking of his life on the road, Chris said: "I like to travel and ride on the bus. On my days off I love to walk in the sunshine. The only drawback is being away from my family."
LeDoux has five children, ranging in age from I0 to 20 years. This is a very happily married man who displays a bumper sticker that reads "Be different, love your wife."
He speaks of his wife Peggy: "I've been real lucky. My wife is as solid as a rock. We have grown up together all these years; just a lot of trust there. My marriage has been a real special thing. Someone told me one time that if you have a Cadillac at home, why settle for a Volkswagen on the road. I've got a Cadillac at home. She is great."
The LeDouxs live on a ranch out in the country in Wyoming. All the children are into music and play instruments. Chris laughed and said, "I know the neighbors would raise hell if we lived in town."
This unique artist possesses a serene manner; his inner peace is apparent. He explains: "We are all individuals. You just have to be yourself. I don't know what the appeal is, but I'm just tickled people like to come and hear me play."
Impressed with the large number of fans who turn out for his concerts, LeDoux says: "It's amazing. I didn't realize how many fans I had prior to signing with Liberty. I've run into fans that say 'We have been waiting for you for 15 years to come here.' That's great!" He smiles a peaceful smile.
LeDoux explains his success:
"Be yourself and write about things you understand. Go out there and do some living and get some experiences under your belt. Just don't try to be someone else."
Asked how he would compare his present career with his rodeo days, he replied: "I get the same thrill out of this and don't have to get scared and face getting killed every day. The butterflies are still there before going on stage to perform. I still get the adrenaline rush every time. You have to feed of this. If you don't enjoy what you're doing on stage, the people out front won't either." LeDoux is certainly not afraid to take a chance; fear is not in this man's vocabulary.
His musical style might be described as loud, kickin' rodeo rock'n'roll in a cowboy frame of mind.
LeDoux's career really kicked off when a guy named Garth Brooks mentioned a worn-out tape of Chris LeDoux in his hit "Much Too Young (To Feel This Damn Old)." He soon gained recognition for a video "Riding for a Fall," and Liberty Records signed him to a recording contract. LeDoux further explained how Garth helped his career:
"Garth kicked a hole in the roof for us and let me out of the underground, is what he did. We were doing fine out on the road, but Garth, that man came along and really helped out."
"I met Garth out in Califomia, when a promoter put us together on the same bill. The first thing he told me was, 'Chris, you don't realize what using your name in that song has done for my career.' I was amazed. I guess I thought he was joking. By doing that he had won over all the people that had been my fans for years. These fans were frustrated because radio wouldn't play my stuff. I helped him a little bit. He's helped me a thousandfold. He's a great guy."
Chris had a favorite Garth-LeDoux story to tell: "The first show we did together, Garth insisted on opening for us. I don't know if it was out of respect for his elders or what. Me and my band were sitting there beside the stage and watched him tear the place up. We had to follow that guy. We did our show and I guess he didn't expect us to do what we did either. About halfway through the show I looked backstage and I could see him grinning through the back door. After we were done, he and his whole band said, 'Where have you guys been?' That was areal special night."
This is where it all started for Chris LeDoux. This led to the duet Chris did with Garth, "Whatcha Gonna Do With a Cowboy," that went on to be a hit.