Just returning from a week's sojourn in Los Angeles at press time, I thought an update on Louisvillians who now reside there would be appropriate. Joe Willenbrink, former manager of Tewligans back in the dark ages (when it had the carpet and just one bar), has abandoned the field of nightclub management in pursuit of a career in hazardous waste consultation. It seems like a logical progression to me. Willenbrink's local credits include giving Avram Kahn his first gig in the music business, working the door at Tewligans, forever changing the face of the Louisville live-music scene. Teresa Ensenat just returned to L.A., after holing up in Derbytown for a year, in order to assume her new post as V.P. of A&R for A&M records. In prior lifetimes, Teresa also worked in A&R for Geffen and MCA. Some of her past signings include Tesla, Edie Brickel and the New Bohemians and Domani. Charley Brown of Triple X Management (and at one time Triple X records) reports that he has had his fill of artist management and is now inventing a computer game based on the music industry; I would describe it more but at this time I think that he's the only one who understands it. In the past years, Charley managed Jane's Addiction, along with putting out their first album, Mojo Nixon, the Fluid and Antietam. My favorite is when Charles Schultz was the drummer for Antietam and Charley Brown was putting out their album."
LOVE MUSCLE
Love Jones is also alive and well in Los Angeles. They seem to be bearing the adjustment quite well and have definitely found their niche (or maybe it found them). I caught one of their Thursday-night shows at Largo in Hollywood and was treated to a special guest singer, La Nina Rose, who joined them in a rendition of "Muskrat Love" (you know, that antiquated Captain & Tennille hit). They've been playing a regular gig at Largo for several months, as well as gigs all over L.A. and were preparing to have a release party for their new single when I left. Like any good boys with Kentucky blood in them, they are coming home for Derby and will be performing at Cliffhanger's in Distillery Commons on Derby Eve Night (that's April 30 and May 1 to any out-of-towners). Their show is pretty much the same as when they lived here, but with the addition of a few new songs and a plethora of new jokes.
GOING FROM A KINGHORSE TO A MULE.
This is the first Derby in about five years that there will be no Kinghorse show at 4121 Shelbyville Rd., since the band is on indefinite hiatus after putting their singer out to pasture. To keep the equine theme going, however, The Machine brings us Mule along with Sunspring opening for Tar on Saturday, May 1. Both Tar and Mule are a part of the Touch and Go Records stable, Tar hailing from Chicago and Mule from Detroit. Tar has almost completed work for a new release to follow their current CD, Clincher.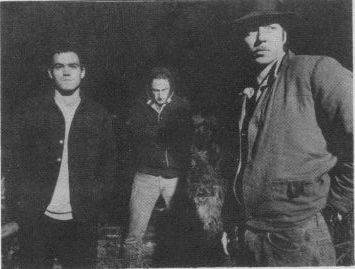 Mule
Mule has been touring heavily all over the place and has turned into quite a "stompin'" band, in the words of the now-AWOL soundman from Tewligans who mixed their last show there. For those who weren't sure, a Mule is what you get when you cross two Laughing Hyenas with a Wig. EEEE-AAAAW.
..TO A GOLDEN PALOMINO
Syd Straw, former member of the Golden Palominos, has joined forces with Louisville natives Tim Harris and Tara Key (of Antietam, the Babylon Dance band) and is wiring the U.S. touring circuit as we speak. Syd Straw was actually born Susan Straw Harris, but adopted the Syd moniker in homage to a bottle of hand lotion from Sydney, Australia. Straw has made several appearances on Saturday Night Live, as a comedienne.
Eventually, her musical aspirations replaced those of acting. She released a solo record called Surprise on Virgin in the late Eighties, recorded with the likes of Michael Stipe, Marshall Crenshaw, Ry Cooder, Richard Thompson, John Doe, Don Was and more. Now her ensemble includes Tim Harris on drums and Tara Key (probably the greatest female guitarist on the planet) on lead guitar. This package is delivered to Butchertown Pub on Tuesday, May ll, with guests Walaroo South from Dayton opening.
LOOSE DIAMONDS ON THE MOVE
Any real veteran of the Louisville music scene will have seen these boys in years past as The Highwaymen, back when they lived in Dayton, Ohio and came down to Uncle Pleasant's all the time. Since then, they moved to Austin, Texas and were encouraged (by Willie Nelson, et al.) to drop the Highwaymen moniker since other people with more powerful lawyers wanted it. Thus, the Loose Diamonds were formed. After heavy touring with the likes of Poi Dog Pondering and impressing the heck out of Bruce Springsteen at a gig in New Orleans at Tipitina's, Loose Diamonds finds itself with a record deal on the Austin-based Antone's label. And they also cleaned up at this year's Austin Music Awards held by the South by Southwest Music Conference! The band walked away with the "Best EP" award for their release Blue Days, Black Nights. Lead singer Troy Campbell co-produced the album of the year, the Across the Great Divide compilation. And Troy also won the "Producer of the Year" award for his efforts. Loose Diamonds will appear at Butchertown Pub on Tuesday, May 18, for two sets.