Dodge City
By Amy Slaton
The first time I met Dodge City guitarist Mike McAfee I immediately formed an opinion about him, but the longer we spoke the more intrigued I became. On the surface you see a mop of blond and would-be blond hair, two wrist-fulls of beads and baubles and enough necklaces to give someone serious back trouble.
But he wasn't nearly as excessive as all this led me to believe. In fact, he was pretty darned reserved! He wasn't quick to discuss himself, but I could hardly get a word in when he was speaking of Dodge City (filled out by singer Jim Leamy, bassist Frank Green and drummer Scott McKenzie).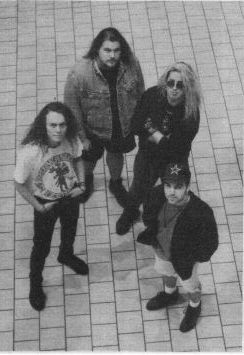 Dodge City
To hear Mike tell it, Dodge City is a band who wants to write music they find both enjoyable and challenging. He feels the group's current tape (soon CD), Peek, is that, but admits to a less-appreciated debut titled Neighbor of the Beast. I insisted we start at the beginning.
"We began, actually began as a band, in 1987-88. That was with the same musicians but a different vocalist. We did a few shows playing only covers … we died. I moved, came back a year later, we got our second singer and did our first studio tape."
Musically, it must be said that the a forementioned Neighbor tape is nowhere near as diverse or structured as Peek. The songs aren't bad, it's just that the album is quite one-sided. I was curious why the new album was so broad compared to the first.
"The biggest problem was the fact that our old singer wasn't open to more than one way of doing anything. It was like trying to collaborate with a brick wall. That's why most if the songs were only written by one person; no one wanted to write with him because he wasn't interested in your opinion. By the time the tape came out we were ready to dump him and find someone else."
So, in the Louisville fashion, after releasing Neighbor of the Beast in 1990, Dodge City virtually ceased to exist for nearly a year. How did the band cope with the lapse? "Badly! Tons of dull practices with no singer," Mike howled. "Frank wound up playing with Karmadogs while they were still trying to find a bassist and all we did as a band was write the music we really wanted to be playing. That's why Peek sounds different from the first one; we didn't have anybody hounding us about what we wrote. We weren't stuck in one certain style anymore."
Enter Jim Leamy and the blossoming of that year's efforts. "Oh, definitely. The very first time I talked to Jim on the phone I knew he'd be the guy. His attitude and outlook were just great. Even if he hadn't been able to sing well I would have pushed for him. In fact, after his first time (singing) with us, I went out with him as he was leaving and said, 'Even if they (Frank and Scott) hated you, come back again, 'cause this will work.' And it has. He doesn't sound like anyone else."
With the release of Peek, an 11-song cassette and 13-song CD (due late April) that sounds wonderful, looks very professional and covers more than a little musical ground, Dodge City hopes to introduce its type of music to an audience that has yet to hear them. From the brutal "Closed Minded" (perhaps an ode to singers past?) to the jazzy chords and frank lyrics of "Time" to the dark mood and meaning of "Freed," Dodge City stands out from the crowd simply because most other bands can't write with this much diversity.
"I'm not nearly conceited enough to say I hope this (album) gets us a record deal, but I think it really represents us well. We grew up listening to the bands of the '70s and '80s, but we don't sound like any one band. Even if you compare us to the big acts today, we sound pretty individual. I don't care if the whole world is freaking off the 'Seattle sound,' we don't have that either. We're able to write outside of one category and that's the reason we sound different. And we can write together now. I just think that if we can get people to hear us, they're bound to find something that gets their attention."
Having ruled the usually not-so-hip Phoenix Hill Tavern during the first Rough Diamond Music Network-sponsored Original Wednesday and with the long-awaited original-music shows on WQMF and WFPL, Dodge City stands a real chance of being noticed and heard by a lot of people.