J. D. Sumner and the Stamps
at Highview Baptist
By Jean Metcalfe
The evening of April 9 was a special one at Highview Baptist Church. It was Good Friday and J.D. Sumner & the Stamps were there. It was also my mother's birthday and it sorta felt as if she were there.
"Brother Bill" Hancock, pastor of the thriving congregation, was there and so was Clarke Beasley, Executive Director of the National Quartet Convention.
(Beasley was in the process of moving from Nashville to Louisville to set up an NQC of ce. The NQC's 1994 convention will be held in Louisville at Freedom Hall, September 19-24.) The rainy evening no doubt accounted for the small turnout, but the enthusiasm of the audience wasn't dampened by the raindrops. Their attendance was rewarded with a passionate performance from the popular southern gospel group, who opened with the classic "Amazing Grace."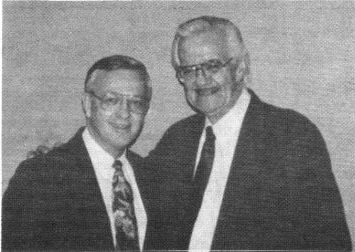 Bill Hacock, left, and J.D. Sumner. Photo by Jean Metcalfe
"Going Home" brought an emotional response, one of many shared by the audience that evening.
Then, with a voice low enough to make Richard Sterban's "oom-papa-mow-mow" sound like a tenor solo, Sumner introduced one of his own songs in his tongue-in-cheek way.
He related that a recent look at some of the more than 500 songs he has written caused him to conclude, "I'm a good songwriter." Lead singer Ed Enoch then took the spotlight on "Inside the Gate," the very third song Sumner had ever written. Enoch interpreted the song well. And Sumner really is a good songwriter.
Sumner brought another chuckle when he introduced "keyboard technician" ("piano player," he dead-panned) C.J. Almgren and bragged, "I know [the two keyboards] are good ones because they came from PTL." He explained that, knowing what was going to happen at PTL, he got in his pickup very early one morning before Jim Bakker got up and "I got my money back. [Laughter.] And maybe some of yours."
Steve Warren sang a fine tenor for the quartet; Tommy Howe very capably filled in on short notice for the group's regular baritone, Ed Hill.
During a short pause in the music, Sumner made a pitch for their latest album, Master of the Wind. Feigning sincerity, he promised to throw in a shower cap or a shoeshine rag as an inducement to buy; their January White Sale was still in effect, he said. While his fellow singers looked on in mock disapproval, he explained: "All this stuff comes from the Holiday Inn. I've been singing 51 years and have stayed in a bunch of hotels." His accumulation of some 500 unopened rolls of bathroom tissue would be his legacy to his 18-year-old grandson, Sumner joked.
Wearing a purplish sport coat and blindingly shiny plum-colored boots, the 68-year-old bass singer (the Guinness Book of World Records has declared him the World's Lowest Bass singer) explained why he doesn't do as much talking at performances as he once did: Influenced by fans who had told him they came to his concerts just to hear him talk, he once booked himself as a "talking show" and left the other quartet members at home. "Nobody showed up," he said. "I got them back real quick."
Although the group carries his name and he is their spokesman, Sumner gave the spotlight to his talented, fellow quartet members.
After expressing a preference for the older gospel songs (he likes the newer ones, too, he said), Sumner and the Stamps presented several classics including "Peace in the Valley" and "Where Could I Go But to the Lord."
The opening "Amazing Grace" may have been a hard act to follow, but Sumner and the Stamps handily pulled it off; each song received enthusiastic applause. As the evening came to a close, the quartet offered up "His Hand In Mine," an absolute favorite of mine as done by Elvis Presley on his album of the same name. The Stamps' version did not disappoint.
My wonderfully old-fashioned Mom would have enjoyed celebrating (what would have been) her 87th birthday at her beloved Highview Baptist Church on Good Friday. But she wouldn't have applauded. Not in church.
Following the concert, J. D. Sumner looked relaxed but tired as I sat and talked with him in the back pews of the church auditorium. I studied the tanned face and the neatly combed silver hair. I eyed his trademark pencil-thin black moustache. I was in awe of this man and his accomplishments even though his manner did not court awe.
He patiently answered my questions about his long singing career and about his friendship with Elvis Presley and the years his group provided backup vocals for the legendary rock 'n' roller.
He never once seemed in a hurry; perhaps he wasn't looking forward to the long trip back to Indianapolis where his group was scheduled to sing in Easter services. Perhaps. But more than likely, he was just being himself — a truly nice gentleman.
(Watch for the J. D. Sumner interview in a future issue.)