Joe Diffie at Coyote's
By Allen Howie
There's no denying that audiences, and especially country audiences, like an artist they can relate to, someone who comes across as just another guy (or gal). Maybe that explains the huge crowd that packed into Coyote's to see "Regular Joe" Diffie on April Fool's Day. For his part, Diffie gave 'em what they came for, from the turbocharged opener, "Next Thing Smokin'," right through the last number, a blistering cover of ZZ Top's "Tush." In between were two hours and nearly two dozen songs served up with the enthusiasm of folks who enjoy their work.
Diffie drew evenly from his three Epic albums, including a generous sampling of material from his newest, Honky Tonk Attitude. His band got progressively tighter as the evening progressed, barreling through numbers like the crowd-pleasing "Regular Joe," the hard country swing of the new record's title track (and first single) and the electric churn of Here Comes That Train." Diffie apologized in advance for a sore throat, but there was no need; indeed, his voice seemed to gain strength as the show went on.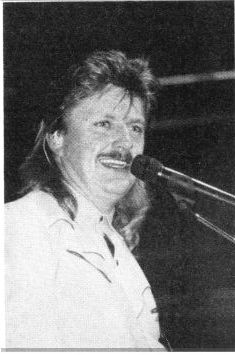 Joe Diffie. Photo by Letha Marshall
As hard as he and his band rocked, Diffie has just as sure a way with a classic country lament and proved it over and over again on ballads like the nicely restrained "And That Was the Easy Part," the heartfelt "Is It Cold in Here" and the melodic "I'm Not Through Losin' You," dedicated to the ladies in the house.
But Diffie seems most at home dishing out country that rocks, as he demonstrated on the tongue-in-cheek "I Can Walk the Line (If It Ain't To Straight)," the Georgia Satellites-on-speed sprint of "Cold Budweiser and a Sweet 'Tater," and the hillbilly hyperdrive of "If the Devil Danced (In Empty Pockets)" He may be a regular Joe, but if his show was any indication, Diffie's on the fast track to country stardom.