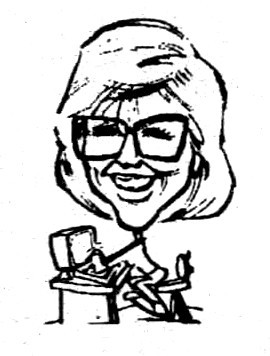 Newsical Notes
Tony Cestaro went back into the studio recently to record two of his songs, "Lonely People "and "You'll Be In My Dreams." Tony was in the studio back in November and December of 1992, with Becky O'Toole handling the vocals on his early songs.
Earl Meyers' album Kidding Around is now available tor a very modest sum. The seven-song cassette by "Earl & the Girls" (the girls being his two daughters, Jen and Steph), is a collection of lively "kid songs" written and sung by Earl, with vocal assistance from Jen and Steph.
Good job, Earl. A lot of hard work and love went into the production. And Earl didn't forget to give credit to his daughters and his wife Geri.
Former LASC member Debra Tuggle, a frequent winner in songwriting contests, has recently added another win to her string. Her original "Every Time My Heart Goes Home" took third place in the Country/Folk/Bluegrass category of the 1992 Songwriting and Lyric Writing Contest of The Network of Lyricists & Songwriters, Inc., Houston. Not bad for a contest that received over 700 entries.
Congratulations, Debbie!
While delivering the April issue of Louisville Music News recently, we ran into Debbie at Music Warehouse on Dixie Highway and she told us about some of the exciting things she has been doing with her music of late. One project involves working with blind children, which Debbie finds very gratifying and challenging.
Mike Tilford scored a three-pointer with his original tune "True Blue," getting airplay on WHAS, WAMZ and a station in Lexington during the NCAA tournament. The song was recorded at Co-oper Doc Dockery's home studio.
Can't let the grass grow under those kind of songs, can you Mike? Now if only Mashburn hadn't fouled out and if only…
Although not ready tor release just yet, work continues on Tim Lynch's album at Charlie Walls' studio in Springfield. (How many projects does that make for Music Man Records, Charlie?) The album, to be titled Crazy Little Voices, will contain several of the wonderfully clever originals that Tim's friends and fellow songwriters enjoy so much. Their reaction to his songs seems to puzzle Tim; it's a wonder he was ever convinced to do an album, even though many of us thought he should. l saw the album photo at the April board meeting and it's great. And the demo tapes I've heard of several of the album cuts are great. I'm really looking forward to this one, Tim.
As of press time, Tim's surgery to remove a tumor above his vocal chords had been delayed until early May; that's very encouraging. We're all sending positive thoughts your way, Helium Man.
You don't suppose ... helium … nawww.
Lee Cable has doubled the number ol stations playing his original song "The Harlan County Blues" since last month's newsletter came out. Local airplay has been a little more difficult to come by but Lee has hopes that WTMT and WFPL will select his song for the original music programs on their stations.
Look tor an article from Lee on what worked tor him and look for Lee at upcoming meetings as soon as he finishes up his school year.
Co-oper Connie Lindsey is looking for "good hit country" originals. If you are interested in submitting songs to Connie, send a cassette tape containing no more than two of your best songs; rubber-banded with a typed lyric sheet, to her at Lindsey-Carwile Music, 3884 Highway 81 N, Calhoun, KY 42327.