Pat Travers at Toy Tiger By Pete Strojny
On Thursday, April 8, a near sell-out, ready-to-rock crowd got to hear first-hand their '70s guitar legend, Pat Travers and his band. The ones who had never seen this band in action soon found out they were in for a treat.
Travers opened the show with the smoking "Snortin' Whiskey, Drinking Cocaine," a preview of what lay ahead and things didn't let up for the next hour and a half as Pat put his Les Paul through its paces.
Tearing into "The Heat in the Street" with some lightning-speed guitar work and masterful chops, he followed with "I Can't Quit You," which reflected the blues roots of Pat's influences, with feel and great control.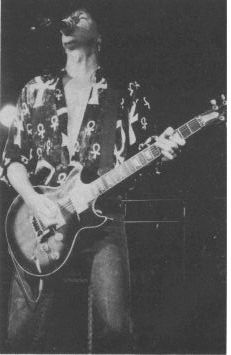 Pat Travers. Photo by Pete Strojny
Trading his guitar in for keyboards on "Crash and Burn," Travers and Jerry Riggs, on lead guitar, took turns showcasing their stuff. Mars Cowling belted out a playful base line and Kevin Neil pounded out a solid backup on drums. One by one they all had their turn at the spotlight.
Once Pat picked up his axe again, it was back to guitar madness. He hammered out "Ready or Not," which worked the crowd into a near-frenzy state. By this point everybody was rocking their hearts out and yelling loudly. It was time for more blues as the band slipped into a tight groove on "Serves Me Right to Suffer." Pat's voice was right on the money, as was the solid backing of his band.
The Hendrix-like, feedback-oriented opening to everyone's favorite, "Boom, boom goes the lights," was the high point of the show. The crowd rose to its feet and sang along.
After a short break the band came back with a killer version of "Born Under a Bad Sign,"which seemed to satisfy even the most hard-core fan.
In a conversation with Pat backstage, he said a new CD is in the works — a followup to last year's Blues Tracks, which went pretty much unnoticed locally. The band was returning from a traditionally good area for them: Chicago-Indy-Louisville, then back to Florida where Pat resides. He said they stay on the road quite a bit and the main objective is to keep it all together, stay focused and "be productive."