Songwriter Of The Month
By Michael Layman
This month we're doing something a little different. Behind every great or notso-great songwriter, there's a stack of unpublished lyrics and a supportive spouse (or significant other) who thinks those lyrics are wonderful. This month I'd like to acknowledge two folks: Tom Metcalfe, husband of Vice-President Jean Metcalfe and Beth Moffett, wife of "Prez" Paul Moffett. Both Paul and Jean are founding members of this organization.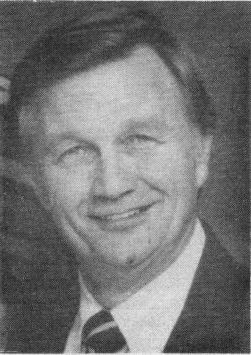 Tom Metcalfe, on the other side of the lens for a change
Tom is always at our seminars and showcases with his camera, making sure he's got the perfect picture of the performers. (Perhaps that's why photographs of him are hard to come by.) More than that, the Metcalfes have opened up their home and their bank accounts in supporting this organization. in the Metcalfes' case, opening up their home includes the time they gave up their bed to Kix Brooks of Brooks & Dunn. They also generously allow Beth Moffett the LASC to store much "stuff' at their home, as well as use their office equipment to handle the chores of the LASC.
Jean is always on the move and Tom is with her every step of the way, lending his support. Tom and Jean have two sons, Eric, who is attending Purdue University and Scott, who works for The Kroger Company. Tom is an electrical engineer at Jelfboat in Jeffersonville, Indiana.
Have you ever noticed a smallish figure loading and unloading a Volvo at our seminars and showcases, selling T-shirts, tapes, coffee mugs and sometimes collecting money at the door? That's Beth Moffett.
We know this woman's a saint because she's married to Paul! The Molfetts, too, have opened up their home and their wallets to support this organization. Beth is at every event, always working hard, always in the background and never receiving the credit she deserves.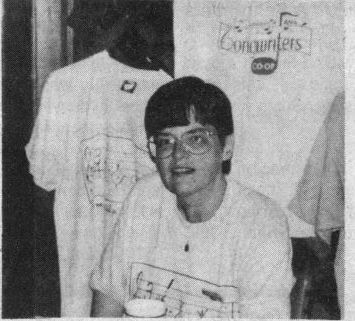 Beth Moffett
Beth is a Unit Supervisor at the Social Security Disability Determination section ot the Health Department of the Commonwealth of Kentucky.
We hope that this article in some small measure shows our appreciation for all your hard work, Beth and Tom. The LASC and Paul and Jean in particular, are indeed fortunate to have both of you helping out.
The LASC is proud to spotlight Beth Motlett and Tom Metcalte as (supportive) Songwriters ot the Month.