likeable for good reasons
Three Flew Over the Cuckoo's Nest (Warner Bros.)
Bela Fleck & the Flecktones
By John Goodin
What a great band.
These guys obviously love what they're doing and, seemingly, haven't let the music business screw it up. This disc shows them surviving the dreaded "personnel change" as Howard Levy, "the tall, thin Flecktone," retires his jersey and leaves a looser, leaner trio to carry on.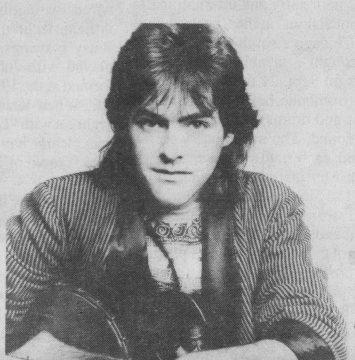 Bela Fleck of The Flectones
The tunes on Cuckoo's Nest are excellent and the playing is impressive. Louisville listeners got to hear several of these new pieces when the trio performed at Coyote's last spring. Burning jazz fusion workouts are mixed with atmospheric floating grooves, there's a beautiful Celtic medley and a rap tune, "The Message," thatspeaks the truth.
With Howard Levy gone, Victor Wooten becomes the other soloist in most of these tunes. He shows here that he can use his prodigious technique (including the two-basses-at-once routine) to say much more than "flashy bass player here." Five of the tunes are written or co-written by Victor and hold their own with "the pale Flecktone's" own compositions. Brother Roy "Future Man" Wooten has a nice solo piece, oddly reminiscent of the experimental Jimi Hendrix and continues to amaze with his drums-of-the-future approach.
Bela himself is always happenin'. From acoustic banjo to synthesized, from Scruggs to McLaughlin, his playing and writing are at their usual high level. "Bumbershoot" is super cool and "A Celtic Medley" is wonderful fusion. Friends are invited too and both Bruce Hornsby and Branford Marsalis fit right in when they visit. If you've seen the Lonesome Pine Special video, you already know that Marsalis is Flecktone to the core.
Great bands are more than great music. They have likeable people, neat graphics, cool liner notes and a vision of something both higher and deeper than the record contract and immediate sexual gratification. Bela, Victor and Future Man are giving us music both exciting and innovative. But more importantly, they remind us of why we listen to music and they leave us something to keep when the music is over.
fine "songcentric" rock