Eric Burdon/Brian Auger Band at Coyote's
By Paul Moffett
Fans of Eric Burdon and Brian Auger had to overcome more than their share of barriers to see the band at Coyote's on October 19. Besides the fact that it was a Tuesday and a steady drizzle was falling, Jefferson Street in front of Coyote's was torn up for utility work. Concert goers had to clamber over and around barricades, orange cones and large holes in the road.
Ah, but those who made it were rewarded handsomely. The mostly unadvertised opening act was Litl Willie, the Cincinnati-based father and sons band that stirred much favorable comment earlier in the year when they opened for the Fabulous Thunderbirds. Mark Babini and his four sons, Keno, Christian, Kenkel and Coda, pump out a solid brand of sharply arranged blues rock that compares very favorably with older bands. Lead guitarist and vocalist Keno drew particularly positive remarks from the blues aficionados and off-duty players in attendance.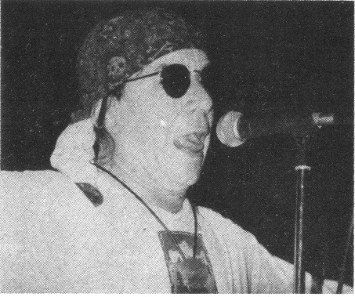 Rock and Roll Hall of Famer Eric Burdon "shouts melodically" Photo by Paul Moffett
As well as Litl Willie played, however, it was Burdon and Auger that the fans had come to see. They got a second unexpected reward: immediately upon mounting the stage, Auger announced that Eric Burdon had just been inducted that day into the Rock and Roll Hall of Fame.
The band then jumped into a Hall of Fame performance, mostly covering material from Burdon's various albums and groups.
"Don't Let Me Be Misunderstood," an early Animals hit, stood up well under the twisting and stretching it received from Auger's arrangement. Keeping Alan Price's signature organ riff from the original single, the tune served as a platform for Auger and guitarist Larry Wilkins to trade ever-quicker solos. For that matter, every tune got an extended-solo treatment from arranger Auger, who is billed as a jazz fusion pioneer. His three-keyboard rack constantly threatened to bounce off the stage and his frequent assaults on the keys required on-the-fly repairs.
The 1968 hit "Monterey" also held up, perhaps because Burdon downplayed the laundry list of musicians in the song in favor of vocal extensions and intra-line banter. In fact, Burdon took lyric and vocal liberties with every song, still able to make that voice sail when he needed it to.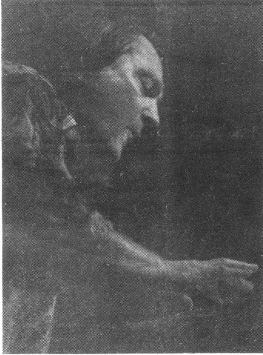 Brian Auger. Photo by Paul Moffett
The "three geezers and two young guys," as one fan described the band, worked their way through a sing-along "We Gotta Get Out of This Place" before slowing down for Burdon's over-the-top rendition of Willie Dixon's "I Just Want to Make Love to You." (The "geezers" were Burdon, Auger and Wilkins. The "young guys" were the drummer, Karma Auger [Brian's son], and bassist Dave Meros.)
The hit "Spill the Wine" allowed Burdon to relate War stories, including a lengthy tale involving a Chevy Blazer, an underage Mexican girl and a field of marijuana that cannot be repeated in a family publication.
The group worked very hard during the show, slacking off not one bit for what might be considered a smallish audience for some nationally known musicians. Auger was drenched in sweat at the end of the night and the drummer had shed his shirt, but the band was tight throughout. The rhythm section was without flaw and held together some tunes which could easily have gotten far off course. In short, they were pros doing their job.
They closed out the night with an encore of Burdon's biggest hit, "The House of the Rising Sun." Burdon again took the opportunity in the middle of the song to tell an obscene story, this one about his first trip to "Nawlins" and a lovely female form in a third-floor window.
You had to have been there. Really, you should have been.