Dramarama Fills The Bill At Phoenix Hill
By Kevin Gibson
Some bands' recorded music doesn't translate well to the stage, seeming muddled and lost, and sounding astonishingly different in the concert hall than on your CD player.
Other bands' live show far exceeds the recorded version of the music, with the latter never seeming to capture the energy, enthusiasm or feeling which comes out in concert.
Fortunately for the fans at Phoenix Hill Tavern Oct. 12, Dramarama, an alternative rock band from California, filled in the gaps and produced a tight, intense set which not only enhanced the studio versions but made them somehow sound even better in subsequent listen-throughs.
The band, which numbers five members and a backup keyboardist, boasts versatile songwriting to provide direction for its energy and tightness, a quality sometimes missing in rock music.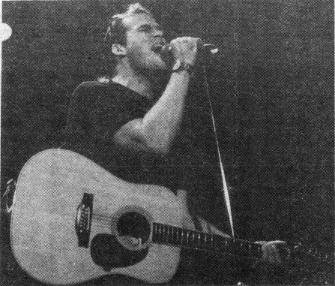 Dramarama lead vocalist John Easdale. Photo by Kevin Gibson
Singer/songwriter John Easdale can take the listener in many different directions and at a variety of speeds. At times, Dramarama is sensitive, at times it is cocky, and at times it is downright hilarious.
The group can shaft effortlessly from singing to us about 1970s television, "I fell in love with Lori Partridge," Easdale confesses in his lyric, to giving us a startling, first-person look at homelessness.
The ease with which the band can shift from one to the other lends credence to both.
For instance, in "Work For Food," the single from the band's newest realease, "Hi-Fi-Sci-Fi," Easdale shows us this frightening problem by not only showing the homeless person's situation but also his (or her) defiance of it:
"No on wants to pay me for my broken heart/so now I've got this shopping cart/and I keep on rolling/keep on rolling/on..."
While the stage performance was often hampered by the Hill's tiny platform (especially for six performers), current Drummer Clem Burke did enough for everyone in the band, which is his trademark. Burke came on stage in white button-up and Burgundy blazer, his black hair pushed down against his skull and over his eyes, looking very much like a throwback to his days with Blondie.
By midway through the show, he had shed jacket and shirt, arms flailing madly, leaving him drenched in sweat and clad in black sleeveless and neckless T and black pants. Burke, who has also toured with bands such as the Eurythmics and the Romantics, left the stage looking much less like a 70s pop icon and much more like a 90s rocker. In addition, he left no doubt in anyone's mind that he knew his business well.
In contrast, front man Easdale paced about the stage spouting clouds of cigarette smoke, arms and chest bulging from a black T-shirt, often looking more like a neurotic wrestler than a singer.
During instrumentals, he frequently grabbed the sides of his head and paced, looking pained and anxious. As he sang, veins strained in his forehead and neck, eyes usually tightly closed and lips pressed against the microphone.
The rest of the band played well, seeming more content to be along for the ride than to be up front helping with the steering. The ride was well worth it for all involved.
Opening the show was Slim Dunlop, formerly of the Replacements, who gave the small crowd more than it bargained for. The slender rocker with the ratty hairdo kept the audience not just rocking but laughing.
In between songs he repeatedly reminded the entire bar that his sister was on hand to watch. When his guitarist suggested he hurry during a break to tune up, he quickly replied, "You've got to be in tune for your sister, man."
Standouts in his short but tight set, which offered no hint of Replacements, were the western-sounding "Ballad of the Opening Band," and "It's Rock and Roll, But It's Rock and Roll Light." Dunlop mixed harmonica with jangly Rickenbacker, and threw in some screeching solos on his care-worn Fender Stratocaster as well on several up-tempo blues/rock numbers.
In tune or out, Dunlop should be headlining somewhere. Especially if his sister is there.