living on their legacy
Last Rebel (Atlantic)
Lynyrd Skynyrd
By Cary Stemle
The story of the tragic airplane crash that took the life of Lynyrd Skynyrd's Ronnie Van Zant sixteen years ago is part of our musical folklore.
The story of the band since then is less illustrious, but not without a certain amount of poetic justice. Despite continued hard knocks, Lynyrd Skynyrd/has weathered the storm and stayed together largely intact.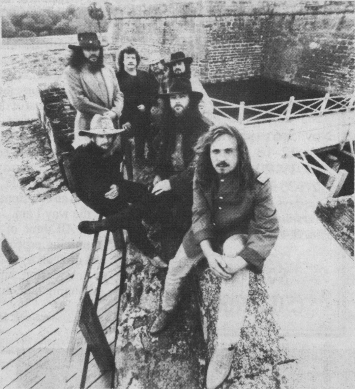 Lynry Skynyrd
Four of seven original members remain; two (Van Zant and guitarist Allen Collins) are dead and the band has had a series of drummers, including Louisville-born Artimus Pyle, who is no longer with the band.
Filling in for Ronnie Van Zant on lead vocals and helping write the material is his younger brother, Johnny, who fronted his own band for a number of years. Johnny has a slightly better voice than Ronnie, but isn't quite the writer his legendary brother was. .
Still, on Last Rebel, the band shows it hasn't lost its grasp on the sound that placed it in the upper echelons of southern rock and catapulted them into the 1970s AOR mainstream.
Listening to Skynyrd after all this time, it becomes easy to identify the individual elements that comprised the band's potent mixture of British rock and southern honky-tonk. Especially instructive is guitarist Gary Rossington's contribution, the familiar rolling, gnarly guitar that links Skynyrd's new music with all that came before.
Hearing Rossington's playing is like hearing Keith Richards' first solo work and realizing just which part of the Rolling Stones' sound was his.
Skynyrd is a symbol of a different time, when "Free Bird" and other ultra-long guitar anthems were in vogue. These days, the band isn't breaking any new ground, but thanks to a kind consumer environment for classic rock, fostered by radio stations and mid-sized clubs, they're heavyweights compared to other bands of their ilk. Skynyrd can still sell thousands of tickets at Louisville Gardens.
These guys are worthy of some success. They deserve it. And The Last Rebel is better than a lot of stuff out there now.
And a quick survey of popular guitar- based bands today indicates those bands have learned a thing or two from the Skynyrd boys. It's only fitting that the band stick around to stake its musical claim.