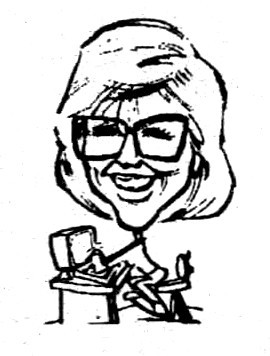 Newsical Notes
Find the Hidden Holiday Gilt Ideas in this column.
Prolific songwriter Earl Meyers has finished up his four-song children's Christmas album, Award Winning Sing-A-Long Songs with Earl & the Girls. "The Girls" are Earl's two daughters and, of course, "Earl" is Earl.
That Earl Meyers is one disciplined songwriter; he gets things done. The song he brought to the October 18 meeting for critique was a hit with the members in attendance.
LASCer Jim Bryan and his partner in BRAINE, Stuart Paine, will release their second album, A Merry Christmas, on November 1. It will be available as a single cassette, or in a Christmas package with their first release, Inside Loneliness, at a special price for two albums.
Haven't seen much of Charlie Walls recently. The Music Man has been so busy with his projects that he meets himself coming and going. But he's still working hard for the November 5 Hit Makers '93 showcase, which promises to be an excellent one. "
And there's a verrrry interrrrresting project he's been working on with Coyote's and WAMZ. And that project is an 18-song album of 12 local artists doing original material, much of it written by Charlie and other LASC members. We're all quite anxious to give it a listen. And that's an understatement.
The last time I spoke with Charlie he was listening to the finished product and he sure was enjoying it. Yes, how sweet it must be, Music Man. I understand the album release party will be on December 1 at Coyote's. (Save some copies for me.) I know, I know. This column isn't supposed to be a commercial. However, as I sit here in the international headquarters of LMN/LASC learning that people are coming from Texas, Minnesota and California for Hit Makers '93 events, I can't help but make a pitch for every LASC member to take in the entire Hit Makers '93 weekend. At $45 for members (which includes a $15 banquet with entertainment by Bowman & Wilson and BIII Ede), the seminar is a bargain you can't afford to miss. If you're a serious songwriter. And the songwriter showcases on Friday night, the 5th, are outstanding.