Birdmen of Alcatraz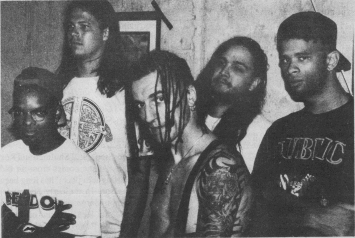 Appearing at the Butchertown pub on November 6 with Strickly Wet.
The national acts seem to be skipping over Louisville this month. And that's just fine, because November is chock-full of happenin' local shows. From the multi-genre LASC showcase at the beginning of the month to the local singers caroling at the Derby Dinner Playhouse after Thanksgiving, we got you covered. National acts? Who needs 'em!
The Why Store
Chris Shaffer, lead singer and songwriter for the Why Store, recently gave us a call to talk about their rapidly expanding success. The Why Store broke the all-time attendance record at the respected Vogue Theater in Indianapolis in September. The group, whose current lineup (Mike Smith on electric guitar, Greg Gardner on bass, Charlie Bushor on drums and Shaffer on vocals, 12-string guitar and harmonica) has been together for two years, will play the Butchertown Pub on November 10. They have one independent release titled Welcome to the Why Store and plan on recording a second record, drawing on their bank of 60 originals.
On pulling a record 1,800 people into the Vogue
We just smashed the previous record of 1,400 set by us. I'm pretty proud of that, because we do 98% originals. There was a line down the way most of the night.
On the heavy vibe that enhances their live shows
I've become, just through the years, sort of a nomad gypsy. We try to make sort of a gypsy circus kind of atmosphere. It helps us with the mood that we want; not to be selfish, but we do it for ourselves, not for the crowd. I usually do it myself and I set it up a little differently each time . . . I'm just into the mysticism of life kind of thing.
A road warrior must write on the road
I do most of the writing in the van with my acoustic guitar. It really almost helps me to be on the road to do it — the experiences, the things you see and the people you meet. You see a lot of crazy things and you meet a lot of crazy people ... I'm really into observing. I'm an emotional, intense person, that's just the way I am.
All three of the other guys had formal training, especially the bass and drum player. I do it all by feel. I bring in the basic chord progression and then we are one huge arranging unit, arranging the songs together.
And the result?
Folky, funky, groove-oriented kind of stuff. There's some folky stuff and there are some real killer dance songs.
Success as an independent entity
It takes some good marketing skills and some good music. We are good friends with Allgood. [Like Allgood,] we tour every nook and cranny, sell every CD you can and move your way up the ladder. We're taking our first vacation in at least 11 months and it's just for one week. But we kind of feel guilty about it, because we just sit around twiddling our thumbs if we're not playing.
The chemistry brought them together
We just gelled, with their music and my scatting over their tunes. We all know each other without having to ask. It would be a sad day if one of us would have to part. It would be really terrible.
So what's the attraction?
Good songs. I really believe it. I believe songs make a good band. I really need seeing people sing the words to my song . . . It's crazy. It's a dream come true, really . . . Everybody can come, there's no set group of people that can come. We feel very lucky.
In the folks who are doing something different department, the LASC, in conjunction with Rough Diamond and the Phoenix Hill-Jim Porter's axis, is putting on Hitmakers' '93, a showcase for Louisville bands and songwriters.
Representatives from a number of major and independent record companies, publishing companies and performing rights groups will be converging on Louisville on November 5 and 6 to check out the talent.
For the bands, it means a chance for a big break. For the public, it's a chance to hear over 25 acts play their finest material in 30 to 40 minute showcase sets. Phoenix Hill Tavern will host rock and pop music, and Jim Porter's Good Time Emporium will host jazz, folk, country and a touch of rock. Admission to each club is $4 and featured "artists at Phoenix Hill include lovesauce & soulbones, the Velcro Pygmies, Joe's Report, Knapper, Godhead, Dr. Smith, Poke-A-Dott, the Infrarednecks, Speaking in Tongues, Mirror Image, Wayne Young & Friends and Stranger Than Fiction.
Over at Jim Porter's, catch the Ron Hayden Group, R.U.O.K?, the Shufflin' Grand Dads, Hugh Bir & the Concrete Canyon Cowboys, the Other Smothers Brothers, Robin Embry, Terry Tyler, Black Hawk, Free Spirit, Bowman & Wilson, the Jaguars and Wildwood.
Dr. Smith is doing things differently too, like having their album release party at the KCA's Mex Theater. The album, titled Goings On Maxwell Street, is reportedly a very promising endeavor from tunesmith Peter Ramsey and Co. It's also a chance to catch these guys at a decent hour: 5 p.m. Make your way to Fifth and Main on Sunday, November 14 for a unique release party.