Young Messiah Tour Features 2 Kentuckians
There's good news and bad news concerning the upcoming Young Messiah Tour. First the bad news: The tour isn't coming to Louisville. The good news: It is coming to Indianapolis.
Touted as "The Most Spectacular Christmas Music Event Ever," the concert at Market Square Arena on November 27 promises to live up to its billing. With the likes of Louisville's Larnelle Harris and Paducah's Steven Curtis Chapman, the three-hour, in-the-round concert should please virtually every fan of contemporary Christian music.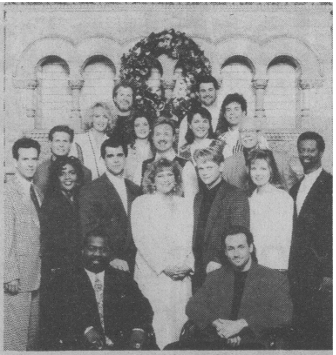 The Young Messiah Tour cast pictured (l to r) seated: BeBe Winans and Michael English. First Row: Wayne Watson, CeCe Winans, Carman, Sandi Patti, Steven Curtis Chapman, Twila Paris and Larnelle Harris. Second Row: Steve Green, Kirk Sullivan (4Him) and Conductor Ralph Carmichael. Third Row: Bonnie Keen and Marabeth Jordan (FirstCall)andAndyChrismanandMarty Magellee (4Him). Top Row: Marty McCall (First Call) and Mark Harris (4Him).
Additional artists scheduled to perform on the unique cross-shaped stage include Sandi Patti, Carman, BeBe and CeCe Winans, Michael English, Twila Paris, 4Him,Wayne Watson, Steve Green and First Call,
Enhanced with four giant video screens, the first half of the program features traditional Christmas hymns and carols and the second portion will be a contemporary rendition of Handel's Messiah.
Boasting "an expanded cast that includes all the major winners of the 1993 Dove Awards," and a three-year attendance of 496,000 fans, the 1993 Young Messiah Tour is looking at a potential audience of 210,000.
Tickets for the Young Messiah Tour are available at the Market Square Arena box office and all TicketMaster outlets and may he charged by phone at 317-639-6411.